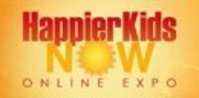 Happier Kids Now Expo 2010 is a free on-line interview series featuring 24 of the world's leading experts, authors, educators, psychologists and scientist who specialize in child and teen development
Littleton, CO (PRWEB) September 24, 2010
You see, starting on October 4, 2010, the Happier Kids Now On-line Expo will be launched - the first interactive cyber event of its kind.
"Happier Kids Now Expo 2010 is a free on-line interview series featuring 24 of the world's leading experts, authors, educators, psychologists and scientist who specialize in child and teen development," says Patrick McMillan, one of the lead coordinators of the event.
The live interviews begin on Monday, October 4th until Thursday, October 21st. The series consists of two interviews per day for three weeks, Monday through Thursday. Interview times are from 5:00 PM and 8:00 PM Eastern Time (2:00 PM and 5:00 PM Pacific). Interview Replays are available for free for 48 hours following the live interviews.
Options are also available to purchase the entire interview series as digital audio (MP3) downloads, along with transcripts of each interview. This is an On-line event in the form of a webcast accessible free of charge by registering at http://www.Happierkidsnow.com.
"During these sixty to ninety minute live interviews these experts will discuss issues that are the top concerns of facing parents and teachers today and provide insight and guidance to help parents and teachers help their kids and teens flourish," adds McMillan.
The renowned experts taking part in the interviews include Dr. Bruce Lipton, Marianne Williamson, Marci Schimoff, Dr. Christine Carter, Bob Doyle, Sonia Choquette, Robib Sharma, Steven Sisgold, Maureen Healy, Shelly Lefkoe, Anisa Aven, Dr. Dan Yachter, Greg Writer, John Seeley, Dr. Joe Rubino, Debbie Godfrey, Amanda Van Der Gulik, Izzy Kalman, Annie Fox, Sharon Wilson, Patrick McMillan, and Rhonda Ryder (also instrumental in planning the events).
McMillan indicates that topics will be far reaching and effective for parents and teachers.
"Child obesity, child/teen depression, ADHD, autism and nutrition, and struggling students are just a handful of the topics we will be exploring," says McMillan. "We are also going to show parents and teachers the real workable solutions with teaching kids the power of their minds, emotional intelligence, character building, positive parenting, and teaching our kids about money, to name a handful."
McMillan is the author of An Exercise in Happiness, An Emotional Fitness Program for Kids, a new Character Education Program, written for children in 3rd to 5th grade, for use at home or in the classroom.
For more information on An Exercise in Happiness contact Patrick(at)HappierKidsNow(dot)com
Rhonda Ryder is the founder of http://www.KidsAwakening.com and the creator of The Inspired Parenting Program.
Registration for this event also provides parents and teachers with multiple free gifts like e-books for parents, teachers and kids, free training videos from several of our expert guests for parents and teachers, and free training audio downloads
Both Ryder and McMillan are passionate parents whose mission is to empower not only their own children but all children to live the happy life they deserve.
"We felt the desperate need to provide all parents and teachers with the knowledge, tools and techniques to provide the same for their children and teenagers," says Ryder.
McMillan adds, "Though our children represent only a percentage of the overall population, they represent 100% of our future and it is in our world's best interest for all adults to do everything in our power to inspire and motivate our kids to live their lives to the fullest and to embrace their future with excitement and optimism."
As well, for those on mobile phone can also take part in the sessions.
For more information, please visit http://www.Happierkidsnow.com
For media interviews, please contact, Paul Fitzgerald, CEO of Salt & Pepper Media Inc, at 1-347-594-2552, or email paul(at)saltandpeppermediainc(dot)com
###