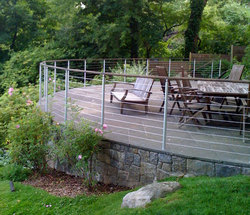 Danbury, Connecticut (PRWEB) September 24, 2010
Buyrailings.com, the #1 best seller of decorative railings in the USA introduces cable railings. Cable railings are very attractive, low maintenance, and the best part, easy to install. Our standard, prefabricated cable railings are made from 1/8", 3/16" and 1/4" diameter, high strength, weather-tough, type 316 stainless steel cables and are designed to replace commonly used metal or wood. The cable railings are laced horizontally through holes drilled in the intermediate posts of your railing frame and then tensioned at opposite end posts. Cable railings be installed on new or existing wood or metal railing frames in exterior, interior, residential and commercial settings. They're also an ideal choice for fences and trellises. Cable Railings are a new trend for the simple sleek modern look. It allows for an unobstructed view with a strong design.
We are a North American distributor offering an endless variety of consumer and commercial top quality products such as components and tubing for architectural railings, kitchen, bars and closet accessories. At BuyRailings.com, our focus is on developing long-term relationships with our customers and clients and we work hard to serve you with integrity and high quality service and support. We are continuously partnering with new manufacturers and suppliers to bring you the best products available on the market today.
You will find our products in business, government, health care and hospitality, industrial, public and residential environments. We are located at 50 Miry Brook RD, Danbury, CT or you can visit out site at BuyRailings.com.
###