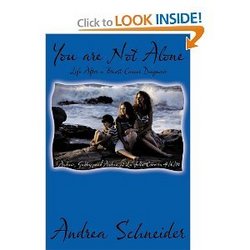 This book is a culmination of what 'I wish I'd known then', but only discovered later. If it helps even one woman, it's been worth the effort.
San Diego, CA (PRWEB) September 29, 2010
In her recently published book, 'You Are Not Alone, Life After a Breast Cancer Diagnosis', Andrea Schneider combines her first-hand experience of being diagnosed, treated and recovering from multifocal DCIS Breast Cancer (sometimes referred to as "Stage 0", "early stage' or "pre-cancer") with years of subsequent research. In it, she examines the tough and often controversial choices women diagnosed with early stage breast cancer face, as well as provides the critical information women need to make the best choices regarding their own breast cancer prevention, treatment and recovery plans.
In 2006, when Andrea was diagnosed with multifocal DCIS (Ductal Carcinoma In Situ), she was shocked to discover how limited and severe the options available were for treating it . She was equally surprised at the seemingly endless amount of conflicting, incomplete and inaccurate information she received from medical professionals, the web and others. "This book," says Schneider "is a culmination of what 'I wish I'd known then', but only later discovered by going through the process and further researching it. If it helps even one woman, it has been worth the effort."
In the first half of "You are Not Alone, Life After a Breast Cancer Diagnosis" Andrea documents her own journey from initial diagnosis to her eventual breast reconstruction and recovery after a double mastectomy. It is a compelling profile of a woman making tough choices even while knowing that, despite her best efforts, she might not have the best information or understanding to do so. Throughout her breast cancer experience, answers to questions often only seemed to generate more questions. For instance, prior to having her double mastectomy surgery, she notices that the release form states the surgery won't improve one's chances of survival. This is at odds with what she's been told and the reason she's elected to have the surgery.
Finally completing her surgeries and while recovering from her battle, she dove into further research to find the answers she might have missed – sorting through the data and consulting with medical professionals and other breast cancer veterans to find the most credible information. Again, she was often surprised and occasionally angered by misinformation she discovered or information she could have used earlier in the process.
The result of her research is that the second half of the book offers an in-depth, no-nonsense guide filled with the critical information and tips women need to best understand and manage their own DCIS (early stage) breast cancer, prevention, screening, treatment, recovery and follow-up plans based upon their own needs. Throughout the book a medical expert verifies the information and offers his insights on Andrea's journey and discoveries, often highlighting the conflicting opinions that still exist around treatment and care of early stage breast cancer patients. Altogether, the book provides an essential resource of first-hand experience and useful information for those concerned or diagnosed with breast cancer.
'You Are Not Alone, Life After a Breast Cancer Diagnosis' is available in ebook, kindle and hardcopy formats via ebook.com and Amazon. For more information regarding this title and the author, please visit thriveandsurvive.net.
About the Author: Andrea Schneider is an experienced attorney and independent business woman who resides with her family in San Diego. She is also a popular public speaker who donates her time to offer hope for those with breast cancer and to educate on early breast cancer detection and prevention. Andrea's blog can be found at: http://thriveandsurvivebreastcancer.wordpress.com.
###