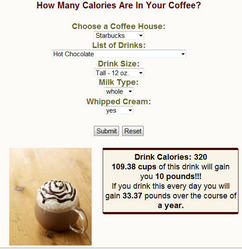 This is a social media inspired tool. We actually got the idea after asking some coffee-loving bloggers for ideas on a cool coffee related app
Chicago, IL (PRWEB) September 23, 2010
Capitalizing on the meteoric popularity of social media, eco-consciousness, and healthy lifestyles, TheCoffeeMakerStore.com, an online coffee maker retailer, is announcing their free "Coffee Calorie Counter", which tells coffee drinkers how many calories are in the most popular drinks at America's biggest coffee chains. Adding an element of humor, it even calculates how fat any particular drink will make you over the course of a year and how many cups of the drink will cause you to gain 10 pounds of fat.
The figures are calculated based on data provided by the coffee chains themselves and the fact that the human body will turn an excess 3500 calories into one pound of fat.
Discussing his inspiration for the idea, Raza Imam, CEO of TheCoffeeMakerStore.com said "This is a social media inspired tool. We actually got the idea after asking some coffee-loving bloggers for ideas on a cool coffee related app." Imam added "We created this tool because we noticed that consumers become more aware of how their decisions impact their health and the environment". The app is another way the company is using social media to engage customers with humorous, informative, and entertaining content while pursuing their stated mission of being the "coolest coffee maker site on the planet".
Capitalizing on growing consumer awareness about health and environmental issues as well as the growing adoption of social media, the viral app helps coffee drinkers make more health-conscious decisions. "We just wanted to create something that people would really find useful." Speaking on the viral marketing potential of the application Imam added "We're mainly promoting this app on social media. So far, the feedback we've gotten has been amazing," says Imam, who plans on creating an iPhone, Blackberry, and Android version of the application.
About TheCoffeeMakerStore.com
TheCoffeeMakerStore.com is an online retailer of coffee maker products and accessories. Focused entirely on meeting coffee drinkers' unique needs, it also has developed a deep and expansive knowledgebase of coffee related articles, tutorials, and resources as part of its mission to be the "coolest coffee maker site on the planet"
Website URL: http://www.TheCoffeeMakerStore.com
Contact Details:
TheCoffeeMakerStore.com
Raza Imam
4850 S. Lake Park Ave.
Suite 1911
Chicago, IL 60615
Phone: 773.807.4086
Fax: 773.285.1386
Email: luvcoffeemakers(at)thecoffeemakerstore(dot)com
# # #