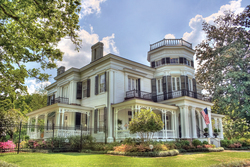 Columbus, MS (Vocus) September 22, 2010
Inspired by the success of its annual Spring Pilgrimage, the Columbus Cultural Heritage Foundation (CCHF) created the Fall Tour of Homes to expand the parameters of homes on exhibit by including nineteenth-century structures that are post-bellum. Many are shown only on this tour. Columbus' October weather is temperate, offering an ideal climate for visitors interested in these epochs of grand architecture and elegant interiors. On tour in 2010 will be the Amzi Love Home, circa 1833, and T. O. Burris Home, a Gilded Age beauty that today serves as The Painted Lady of Columbus Bed & Breakfast. Some antebellum homes featured are Rosewood Manor, Waverley Mansion, Shadowlawn, and the seldom-seen Rosedale. Bryn Bella Plantation, the Jackie O' House, and Whitehall will also be showcased, along with Summer Time, a Victorian Queen Anne cottage. Temple Heights shares an evening tour with White Arches, and the Stephen D. Lee Home rounds out the line-up. The Stephen D. Lee Home houses the Florence McLeod Hazard Museum, which exhibits Civil War Collections and artifacts.
"Fall is a beautiful time of the year to visit Columbus, Mississippi and tour our antebellum and Victorian homes. From Victorian cottages to grand mansions, visitors will have an opportunity to tour some of the South's finest architectural gems. Passing stunning ginkgo trees on tree-lined streets, visitors may view the newly restored first home of America's greatest playwright, Tennessee Williams, from atop an authentic British double-decker bus. Visit Columbus during our Fall Tour of Homes and see why Columbus was named one of a Dozen Distinctive Destinations by the National Trust for Historic Preservation. An unforgettable weekend awaits you!" invites Nancy Carpenter, Project Manager for the CCHF.
Tickets are available on-line at http://www.columbus-ms.org or may be purchased in person at the Tennessee Williams Welcome Center at 300 Main Street in downtown Columbus beginning Monday, September 27, 2010. Tickets are per person per tour: $15 Adults, $14 Military/Senior (60+), $10 Student (6-17), and free for children five or younger.
For more information, call the CCHF at (800) 920-3533 or visit http://www.columbus-ms.org.
# # #