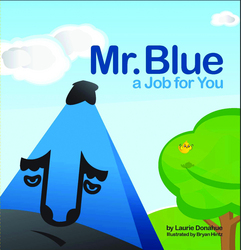 "A touching illustration of God's creativity and perfect plan for the "Mr. Blue" in each of us. It is truly an engaging "heart warmer" for all. ---Susan Wilson, Principal, Pleasant Valley Christian School
Somis, CA (PRWEB) September 28, 2010
LifeSong Publishers has released "Mr. Blue- a Job for You," a rhyming picture book about finding God's purpose in the reader's life. In primary colors, this interactive picture book tells the story of a sad triangle who compares himself with many other characters who can, because of their gifts, do things that he cannot do. In the end, they come together, each contributing his own gift toward a common goal, and Mr. Blue finds he has a place where only he can fit.
"Mr. Blue- a Job for You" uses the concepts of:
color
spatial relations
size
shape
numbers
rhythm and
exploration of the senses.
"A touching illustration of God's creativity and perfect plan for the 'Mr. Blue' in each of us. I especially love how the book comes alive as children role play with the character shapes provided in the book. It is truly an engaging 'heart warmer' for all ages!" Susan Wilson Principal, Pleasant Valley Christian School Camarillo
There is a bird and a worm on each page playing "hide and seek" that is unconnected to the story and each of the characters is wearing is a different style shoes. In the inside of the hardbound back cover is a pocket that contains the cut-out character shapes for puzzle and role play.
Mr. Blue's own web page is in development for extra activities to stimulate and entertain children. One of the activities called, "Mr. Blue Goes With You" will allow a child to print a large Mr. Blue character to be mounted on cardstock and accompany a child at work or play. Another activity will be for a child to submit a melody to provided lyrics for a song about Mr. Blue. Selections of both of these will be published on Mr. Blue's page. Coloring pages in pdf format will also be provided on the activity page.
"Mr. Blue" was written by Laurie Donahue who is the author of 5 books, incuding the popular "God Should I Be Baptized." Laurie has 4 grown daughters and 2 grandchildren and lives in Southern California with her husband. Bryan Hintz, a graphic designer, lives in Washington with his wife and three children.
Laurie is available for readings and signings through LifeSong Publishers, 805-504-3916.
Mr. Blue a Job for You is a hardbound picture book and retails for $15.95. Book specials through the publisher are available for blog readership. If you are a blogger or for more information, contact LifeSong Publishers or toll free at 866-266-6917, or write LifeSong Publishers, P.O. Box 183, Somis CA 93066.
# # #