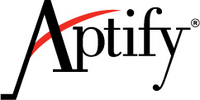 Our customers desire SharePoint as a front-end interface for their applications and for general collaboration functionality
Washington, D.C. and Reston, Va. (Vocus) September 23, 2010
Aptify, developers of the Aptify Rapid Application Development (RAD) Platform, and CorasWorks Corporation, a leading provider of business solutions and applications for Microsoft SharePoint, today announced a partnership to provide comprehensive business solutions that span both Microsoft SharePoint and SQL Server.
Aptify's comprehensive RAD Platform accelerates and reduces the cost of developing, deploying and maintaining database-driven applications. With Aptify RAD, which automates software application development, companies can easily and quickly develop applications that augment or replace their existing back-office systems.
The driving force behind the relationship is that both Aptify and CorasWorks recognize that customers want and need comprehensive solutions that leverage both SharePoint and back-end systems and databases, including SQL Server. The partnership brings together the required software and resources to allow organizations to build, manage and maintain such solutions in less time and with fewer resources, significantly reducing the total cost of ownership of those solutions.
"Our customers desire SharePoint as a front-end interface for their applications and for general collaboration functionality," said Amith Nagarajan, CEO of Aptify. "They demand consistent user interfaces that promote ease of use and a uniform environment that is simple to support. The CorasWorks business solutions and solution platform provide the ability to satisfy all these requirements. With CorasWorks, they can quickly implement SharePoint solutions, and with our pre-built integration, make it easy to seamlessly work with existing Aptify applications and other back-end systems."
"We recognize that SharePoint customers are building and deploying increasingly comprehensive solutions that require simpler access to SQL Server data and other external systems," said Gary Voight, President and CEO of CorasWorks. "The Aptify RAD Platform enables very quick and reliable integration with SQL Server, provides business process orchestration and produces a uniform environment that is easily maintained. Through our partnership, organizations can now leverage CorasWorks for the front-end data visualization, business intelligence and dashboards, and Aptify for the complex back-end data connections."
Aptify and CorasWorks have completed an integration of their respective platforms that enables organizations to easily take advantage of the strengths of both SharePoint and SQL Server. These platform capabilities are available immediately. The two companies also plan to jointly build business applications. More information on the applications will be announced in the future.
Aptify and CorasWorks will sponsor two webcasts on the partnership and the product synergies on Tues., Oct. 5 and Wed., Oct. 6. Those interested in learning more about the Aptify solutions can register for the webcast at http://www.corasworks.net/resources/10-6-aptify-cw-webcast.html. Those interested in learning more about the CorasWorks solutions should register at http://www.corasworks.net/resources/10-5-aptify-cw-webcast.html.
Aptify is best known for Aptify RAD and its Association Management System. For more information on Aptify, visit http://www.Aptify.com.
CorasWorks is best known for its business solutions and applications on Microsoft SharePoint. Its business solutions include Project Portfolio Management and Idea Management. It also has an online App Store for SharePoint. For more information on CorasWorks, visit http://www.CorasWorks.net.
About Aptify
Since 1993, Aptify has grown to be a leader in application software for enterprise-class associations, non-profits and other member-based organizations. Aptify's Association Management System (AMS) is the most technologically advanced Association Management System available today. It provides over 20 powerful applications including membership, meetings and events, committees and chapters, subscriptions and publications, education and certification, fundraising and grants, advertising, and many others.
A Microsoft Gold Certified Partner, Aptify meets customers' needs with a comprehensive suite of advanced CRM capabilities, process-driven applications, online commerce, integrated business intelligence and workflow, a comprehensive Rapid Application Development (RAD) platform, and world-class implementation, training, and support services. Headquartered in Washington, DC, Aptify also has offices in California, Chicago, and Pennsylvania, Canada, and India. For more information, visit http://www.aptify.com.
About CorasWorks
CorasWorks is a global leader in solutions and applications on Microsoft SharePoint. More than 1,000 organizations and 1 million users worldwide run solutions and applications from CorasWorks and our partners. Leveraging CorasWorks and its solution platform on SharePoint, organizations can accomplish their business objectives while dramatically reducing the risk, cost, and complexity associated with traditional point solutions. CorasWorks is a Microsoft Gold Certified Partner headquartered in Reston, VA. For more information, visit http://www.corasworks.net.
# # #