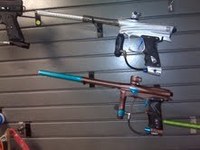 Cake Boss teams up with local business to sell 2 items on ebay with 50% of proceeds going to charity.
Spotswood, NJ (PRWEB) September 24, 2010
In the Cake Boss episode "Camouflage and Cupcakes" Buddy Valastro and team tackle the difficult task set by them by two employees of All Star Paintball Arena in Spotwood, New Jersey. They are asked to create a paintball cake and then are challenged to a game of paintball at the arena prior to the delivery of the cake.
Buddy and his team of six take on the team of two in a two game match. After being handily decimated by the skilled employees of the paintball field, the competitive Buddy is bewildered that two were truly capable of defeating seven, but humbly and graciously accepts defeat and vows to "wow" the two over when his teams expertise shines once the cake is delivered.
An expectant group of staff and onlookers are truly marveled just as Buddy had hoped once he delivers the immense and intricately detailed cake to the All Star Paintball Arena.
The paintball markers pictured here were used in this episode. The brown and blue marker was used by Buddy's team to create the center piece for the cake and the silver and blue marker was used by Buddy in his games against the staff members. Both guns are being auctioned off on Ebay with 50% of the proceeds going to the Make a Wish Foundation. To bid on these items simply type in either of these numbers on the ebay search engine. 260668135305 or 260668128586.
# # #