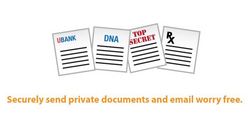 LOQMail 2.0 and the built-in reader gives our customers increased functionality, value, and establishes new business opportunities.
Monterey, Calif. (PRWEB) September 23, 2010
WebLOQ, Inc., a leader in privacy solutions for secure and compliant business communications, today announced LOQMail 2.0 which includes a new read-only service for its secure, encrypted email. Available immediately at no charge for existing LOQMail clients, LOQMail 2.0 expands users' ability to communicate in a secure and compliant manner with non-LOQMail users. Adding the read-only capability to the LOQMail service complements the company's easy-to-use products by making it simpler for both individuals and businesses to comply with growing national and state privacy legislation.
"LOQMail 2.0 and the built-in reader gives our customers increased functionality, value, and establishes new business opportunities," said Neal Smith, co-founder and CEO. "The need for secure read-only messages spans professionals and organizations that are required to send secure and compliant communications, including lawyers, accountants, insurance brokers, banks, government, law enforcement agencies and healthcare professionals. Now these professionals and organizations, - mostly small and medium businesses - are able to use LOQMail 2.0 when secure one-way communications will suffice to transmit messages and files to their business partners and clients."
An example of how LOQMail 2.0 is being leveraged by existing clients is Medical Audit Resource Service, Inc. (MARSI). MARSI handles over a hundred thousand medical records every year and uses LOQMail to ensure the security of its client's patient medical records. Dr. Todd M. Husty, D.O., FACEP and President of MARSI commented, "LOQMail is a secure, compliant and easy to use solution that we use within our network of professionals across the country. However, there are instances when we need to send secure messages and files to others that are outside of our LOQMail community that would result in the need to use overnight mail and the fax. Now with LOQMail 2.0 we can send one-way secure messages to non-subscribers which they can easily retrieve from a secure website."
The reader functionality of LOQMail 2.0 notifies the recipient that a secure message has been sent to them and it then guides them through a two step process to log in and retrieve the private message. The contents and attachments are delivered via a standard HTTPS session, the same security and authentication often used for financial transactions on the internet. A simple registration to read LOQMail messages will occur just once and subsequent messages will only require the recipient to log in with their credentials. The message will be available in a read-only mode where the user cannot "reply" to the message unless they are a LOQMail subscriber.
To reply to a private email, or send secure LOQMail to others, a LOQMail account is required. Company, group or individual accounts can be downloaded from the WebLOQ web site. The full read/write version of the LOQMail secure email service installs behind the user's preferred email client (Outlook, Thunderbird, Windows Mail, Mac Mail, etc.) as a new private communications channel. When used between two or more LOQMail users, the service provides state of the art double-encryption to the entire email, including the subject line, email body, attachments and recipient details to ensure that the email, documents and personal information exchanged between registered LOQMail users is valid and secure.
For more information and to download a 30-day free trial of LOQMail 2.0 visit http://www.loqmail.com.
About WebLOQ
WebLOQ enables secure, private and compliant electronic communications. Combining revolutionary technology with unrivaled ease-of-use, WebLOQ's suite of LOQMail solutions simply integrate directly into users' email to provide a trusted communications channel to ensure that sensitive email, documents and personal information are delivered and received only by the intended recipients. Emails sent via LOQMail are protected with state of the art double-encryption and are transmitted over WebLOQ's private network of domains that are shielded from spam, phishing, and malware for comprehensive security. Its flagship products include a secure read-only functionality to correspond with non-subscribers and auditable reports that trace delivery confirmations with an individual tracking number to easily demonstrate compliance to regulators and facilitate eDiscovery.
LOQMail is successfully helping organizations across financial services, insurance, healthcare, legal, accounting, government, defense and law enforcement gain the cost savings and efficiencies of email, while making sure that sensitive correspondence is compliant with growing national and state privacy regulation. WebLOQ is headquartered in Monterey, CA and more information is available at http://www.webloq.com, or by calling (888) 815-0008.
# # #