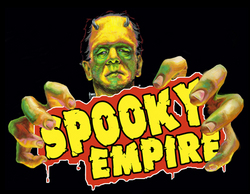 "...the greatest gathering of horror icons to ever hit the state of Florida..."
Orlando, FL (PRWEB) September 23, 2010
You wanted the best, you got the best, the hottest event in the land, Spooky Empire's Ultimate Horror Weekend. This year they are ready to rock the doors off the Wyndham Orlando Resort with the best guest lineup they've had! This year's event returns to the Wyndham Orlando Resort on October 8-10, 2010. Spooky Empire's Ultimate Horror Weekend is fast becoming one of the most popular horror events in U.S. with fans coming from all over the world to attend. Last years show was monstrous, with the most fans in attendance so far, reaching record breaking numbers.
Spooky Empire is proud to announce the greatest gathering of horror icons to ever hit the state of Florida, including a Nightmare on Elm Street reunion featuring the gloved one himself, Robert Englund a/k/a Freddy Krueger, John Saxon, Heather Langenkamp, and Amanda Wyss, also in attendance will be the Master of Horror, Legendary Director John Carpenter – best known for his many horror/sci-fi films including "Halloween", "Christine", "The Fog", and "Escape From New York" and The Mistress of the Dark herself – Elvira. Legendary guitarist, Ace Frehley, tops off this years' headliners.
But that's not all…also making appearances at this three-day fest will be Danny Trejo of "From Dusk Til Dawn", "Predator" and his just released film "Machete", Allan Hyde a/k/a Godrick of the HBO series "True Blood", Ogre, original member of the band Skinny Puppy who most recently played the part of "Pavi Largo" in the rock-opera "Repo:The Genetic Opera". Some returning guests are Kane Hodder "Friday the 13th VII & VIII", Ricou Browning the Original "Creature from the Black Lagoon", P.J. Soles of "Rock n Roll High School" and "Halloween" and paranormal favorites Steve Gonsalves, Dave Tango, and Amy Bruni from GhostHunters and GhostHunters Academy. They will all be joining some already established guests including horror's favorite mother Betsy Palmer a/ka/ Mrs. Vorhees of "Friday the 13th", and a few "Lost Boys" including Brooke McCarter, Billy Wirth and songwriter G Tom Mac. It's a family affair with father and son duo Jake Busey "The Frighteners" and "Starship Troopers" who is making a return appearance, and his dad the legendary Gary Busey star of over a hundred films including "Point Break" and "Silver Bullet". Also on the guest list is a "Return of the Living Dead" reunion including Beverly Randolph, John Philbin, Thom Mathews, Brian Peck, Jewel Shepard, and Don Calfa.
The weekend will be packed full of incredible events, kicked off by their annual Zombie Walk hosted by Uno's Chicago Grill, Film Festival, Tattooing, Celebrity Poker Tournament, Costume Contest, Live Bands featuring a KISS tribute band at Friday night's DeadBangers Ball.
Advance tickets for this ultimate event are available now! $50 gets you in for the whole weekend, that's all three days of horror mayhem! One day passes are just $30 and $35. Visit the website http://www.spookyempire.com.
Make sure you reserve your rooms early this year. Last year sold out quickly and you don't want to pass up the opportunity to stay on the premises, you don't want to miss a thing. Rooms at the Wyndham are just $99 a night, if you mention "Spooky Empire" when you call for reservations. The Wyndham reservation line is 1-800-421-8001. You can also reserve your room via the website http://www.spookyempire.com
Join the legions of Spooky Empire fans on their Forum at http://www.spookyempire.com. Meet other fans, get answers to your questions, and find out the most recent updates on the show. You can also find and keep up with Spooky Empire on social networking sites such as Facebook, MySpace, and Twitter.
For more information visit the website at http://www.spookyempire.com or call the Spooky Empire Hotline 954-258-7852.
###