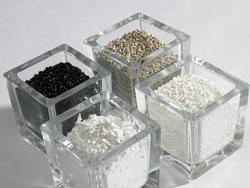 Conshohocken, PA (PRWEB) September 23, 2010
High performance polymers enable many engineering benefits including weight reduction, increased performance, part consolidation, and cost improvements. Discover how engineers are using innovative fabrication technologies such as overmolding, laser welding, and thermoplastic bagging with VICTREX® PEEK™ polymer and VICTREX® Composites Matrix to enhance functional performance while reducing systems costs by joining Victrex Polymer Solutions during the GlobalSpec Plastics and Plastics Fabrication online event.
John Walling, Marketing Manager and Michael Sandeen, Product and Technical Manager for Victrex Polymer Solutions will be speaking to industry professionals around the globe at 1:30pm Eastern Time on October 6th, about advanced fabrication technologies and application development in the energy, transportation, aerospace, industrial and electronics industries. They will be covering many topics including laser sintering processing techniques as well as how the oil and gas industry is using VICTREX PEEK polymer for pipe and tubing to improve system performance.
The Victrex educational session will be one of several presentations in the day's agenda that covers leading trends in the Plastics and Plastics Fabrication industry.

When: Wednesday, October 6th, 2010 at 1:30pm Eastern Time
What: Polyetheretherketone (PEEK) Fabrication Technologies for High Performance System Solutions
Where: Online - http://www.globalspec.com/events
Contacts: GlobalSpec e-Events Manager, Molly Kray, mkray@globalspec.com or 518-880-0200 x5471. Victrex Polymer Solutions Global Interactive Marketing Communications Manager, Liat Egel, legel@victrex.com.
VICTREX PEEK polymer is a linear, aromatic, semi-crystalline polymer widely regarded as one of the highest performing thermoplastics in the world. It provides a unique combination of high performance properties over a wide range of temperatures and extreme conditions. The polymer's design and processing flexibility allows it to be used as a replacement for metals and other materials in many types of demanding applications.
For more information, please visit the Victrex website at http://www.victrex.com.
About Victrex
Headquartered in the UK, Victrex plc is an innovative leading manufacturer of high performance materials, including VICTREX® PEEK™ polymer, VICOTE® Coatings and APTIV™ film. These materials are used in a variety of markets and offer an exceptional combination of properties to help processors and end users reach new levels of cost savings, quality, and performance. All Victrex material production comes under Victrex's ISO 9001 quality registration.
VICTREX® is a registered trademark of Victrex Manufacturing Limited in the US, European Community and elsewhere. PEEK™, APTIV™, PEEK-ESD™, HT™, WG™ and ST™ are trademarks of Victrex plc. VICOTE® is a registered trademark of Victrex plc in the US, European Community and elsewhere.
About the Plastics and Plastics Fabrication e-Event.
GlobalSpec's FREE online event will have leading edge presentations, Q&A sessions, and an exhibit floor packed with the latest technology offering new products and more, presented by key manufacturers in the areas of quality control; materials and product testing; test equipment and strategies; plus inspection. The Plastics and Plastic Fabrication e-Event offers conference-goers as much or more than they can get from a traditional trade show. Understand the latest technologies impacting test and measurement, discover new applications and markets, and be among the first to learn about new product releases. Within the online environment, networking with manufacturers and peers is as simple as an instant message or the exchange of a v-card, and you can easily gather valuable resources like white papers, tech articles, and data sheets in your online briefcase (which will never get heavy). GlobalSpec e-Events provide all of this in a one-day live conference without a pricey registration fee, travel or lodging expenses.
About GlobalSpec, Inc.
GlobalSpec is the leading specialized vertical search, information services, e-publishing and online events company serving the engineering, technical and industrial communities. GlobalSpec users benefit from domain-expert search engines, a broad range of proprietary and aggregated Web-based content, 40 e-events and more than 60 e-newsletters; helping them search for and locate products and services, learn about suppliers and access comprehensive technical content. SpecSearch®, GlobalSpec's trademarked search technology, allows users to search by specification more than 186,000,000 parts in 2,300,000 product families from more than 23,000 supplier catalogs. For suppliers, GlobalSpec offers highly filtered sales and marketing opportunities, product promotion and brand advertising platforms, including the GlobalSpec Industrial Ad Network, and a wide range of e-media advertising and marketing solutions.
GlobalSpec, SpecSearch, The Engineering Search Engine and The Engineering Web are registered trademarks of GlobalSpec, Inc.
###