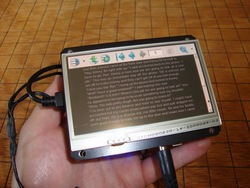 I have seen engineers go from unboxing to functional prototype using proprietary modules within 60 minutes. That's a level of customization and rapid prototyping we believe is unparalleled.
Canton, MA (PRWEB) September 24, 2010
Liquidware, a leading Open Source Hardware and Software embedded systems company based in Canton, MA, announced today the availability of the first 100% Open Source Ebook Reader. The device is targeted at embedded systems developers and contractors looking to build and deliver a functional Ebook reader whose underlying software can be modified and altered to provide additional features.
The EBook reader is modular in design and form factor, allowing engineers and programmers to mix and match screens and core components including the TI OMAP processor for either faster performance, longer battery life, or more storage. This level of flexibility is underheard in the market today.
Unlike most Ebook readers presently available, the Liquidware Open Source Ebook Reader is designed to promote rapid prototyping. Examples include adding third party sensors and digital interfaces to change the way pages are turned, or books are loaded to provide a more immersive user experience. Likewise, the Open Source Ebook Reader is designed to feature and entirely Open Source software stack. This means a Linux operating system optimized for embedded, low power, long battery life, running device drivers and libraries written by and for Open Source programmers and engineers.
The Open Source Ebook Reader is the first Ebook reader to provide full USB ports capable or running third party accessories like keyboards and mice, while providing a unified on-screen interface.
"This is an Ebook Reader designed for engineers, by engineers, who are increasingly called upon to deliver fully functional prototypes within a shorter period of time," said Christopher Ladden, lead Product Developer at Liquidware. "In the labs, and during demos, I have seen engineers go from unboxing to functional prototype using proprietary modules within 60 minutes. That's a level of customization and rapid prototyping we believe is unparalleled."
Principles of modularity driving rapid prototyping of gadgets are not new. Liquidware has devliered modular gadgets into the consumer product design, defense, and medical device sectors since 2006. Likewise, similar offerings are made available by companies including Bug Labs, a New York City hardware provider. However, the process of delivering application-specific, highly customizable platforms to engineers requires a process of development and packaging the Liquidware has refined over it's years of experience.
All underlying code is written in C, because that's the most popular programming language amongst embedded systems engineers. Scripts are written in Perl, Ruby, and PHP, especially for rapid prototyping given its popularity with designers. The programming toolchain is Open Source, and is included on the device, meaning that field-programming and in-field debugging is not only possible, it's encouraged.
The Liquidware Open Source Ebook Reader is available as a kit from http://www.liquidware.com, or fully assembled by any number of resellers and distributors.
About Liquidware
Liquidware is one of the fastest growing engineering firms, specializing in high speed, lower power embedded systems product design, rapid prototyping of medical devices, parallel systems, and defense engineering.
Liquidware is also one of the most widely recognized organizations of Open Source Hardware hackers. Based in Boston, MA, Liquidware has three primary lines of business: high end medical device development, defense systems engineering, and Open Source Hardware design. Liquidware's hardware has been used by some of the world's leading research institutions, consumer product firms, and is deployed in field operations worldwide.
Trademarks
OMAP and Beagle Board are trademarks of Texas Instruments. ARM is a trademark of ARM Limited. All other trademarks and registered trademarks are the property of their respective owners.
Editorial Contact for Liquidware
Justin Huynh
Liquidware, Press Manager
(646) 835-9728
justin(dot)huynh(at)liquidware(dot)com
http://www.liquidware.com
# # #