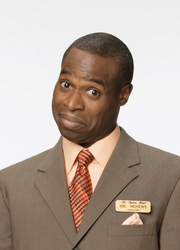 Add a quote"I'm thrilled to be part the Celebrity Actors Camp home team. Nothing gives me more pleasure than to help a young child or teenager find their passion and help them develop it," said Phill Lewis. I love working with children who love to act."
Los Angeles, CA (PRWEB) September 23, 2010
Phill Lewis from The Disney Channel's Suite Life on Deck has been actively affiliated with Celebrity Actors Camp (http://celebrityactorscamp.com) since its inception along with co-founder Adrian R'Mante. Phill Lewis and Adrian R'Mante met on the set of the Disney Channel's Suite Life of Zack and Cody where they developed a friendship on set. Both Phill Lewis and Adrian R'Mante were invited as celebrity guests to speak about the entertainment business at various acting schools around the country. After making several appearances R'Mante and Lewis came to the conclusion that the young performers lacked the true knowledge necessary to be successful in the entertainment business. That's what gave them the motivation to start the Celebrity Actors Camp, a training center where children and teenagers can learn directly from acting professionals who are currently working on their favorite shows on the Disney Channel and Nickelodeon.
Phill Lewis is arguably one of the most consistently humorous characters on the Disney Channel. He's been playing Mr. Moseby since 2005 and burgeoning teen actors admire his acting skills. Teen acting parents recognize Phill Lewis from his numerous appearances on NBC, ABC and CBS in shows like Scrubs,and Yes, Dear. In fact, when Celebrity Actors Camp announces a tour visit to a city such as San Francisco, Seattle or Orlando, parents and teens quickly clamor the Celebrity Actors Camp website to find out if Phill Lewis will be teaching as part of the camp.
"I'm thrilled to be part the Celebrity Actors Camp home team. Nothing gives me more pleasure than to help a young child or teenager find their passion and help them develop it," said Phill Lewis. I love working with children who love to act."
The Celebrity Actors Camp gives young actors a head start on their lives by helping them develop leadership and teamwork skills, self-confidence and the ability to earn income all while having a blast just learning how to act.
For more information on Celebrity Actors Camp please go to http://www.celebrityactorscamp.com
# # #