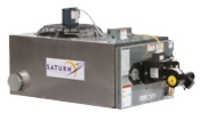 We've engineered the Saturn waste oil furnaces to help companies eliminate their heating bills
Lancaster, PA (Vocus) September 24, 2010
The new Saturn™ 140 and Saturn™ 230 waste oil furnaces bring the potential for energy savings to small shop and garage owners worldwide. Customizable to meet specific heating needs, the efficient commercial units feature an advanced burner design, fast installation and easy maintenance.
"Saturn products make it feasible for companies with lower BTU input to recycle used motor oils, hydraulic fluids and certain fuel oils," says Morris Mantey, president and CEO of Clean Burn, manufacturers of the Saturn units. "Each furnace is UL listed in the United States and Canada, and complies with EPA regulations. These economical units feature a three-pass heat exchanger for greater efficiency and special internal combustion sleeves to maintain consistent flame heat. The furnaces are engineered from the ground up to burn all waste oil types so that companies can eliminate transportation hassles and costs associated with disposing of used oils."
The 300-pound Saturn 140 features a maximum BTU input of 140,000 and an output of 110,000 BTU. The unit has a ¼ horsepower fan motor with a fan diameter of 20 inches and consumes a maximum of one gallon of used oil per hour.
The larger 450-pound Saturn 230 features a maximum BTU input of 230,000 and an output of 180,000 BTU. The unit has a 1/3 horsepower fan motor with a fan diameter of 24 inches and consumes a maximum of 1.6 gallons of used oil per hour.
Both Saturn units (which are showcased at http://www.saturnfurnaces.com) feature the Saturn 100 burner, have metering fuel pumps and can operate on 115 volts, 60 Hz with a 20A circuit breaker. The units feature front doors and burners that swing out for easy cleaning every 1,000 hours. A smart control features auto-restart technology for safe, reliable ignitions.
"We've engineered the Saturn waste oil furnaces to help companies eliminate their heating bills," says Mantey. "Even though these are a more economical option than our standard Clean Burn units, operators will get the same reliable factory-trained, expert installation and service offered by our technicians. In addition, each Saturn unit features louvers, canister filter, check valve and screen, a wall thermostat, barometric damper, connector block, oil and air supply components along with bolts and fittings for assembly. This compact unit is ready to work from the day it's installed and will pay for itself very quickly."
There are 80,000 Clean Burn functional furnaces and boilers located throughout the world that burn millions of gallons of used-oil each year on-site, at the point of generation. This volume of used-oil would otherwise be transported on highway systems and pose a considerable risk to spills and/or contamination to the environment.
Clean Burn is an ENERGY STAR® partner. The company holds numerous industry certifications and works with the U.S. government, the Environmental Protection Agency and various associations to help coordinate the establishment of standards and regulations related to heat recovery and recycling efforts involving used motor oils. For more information on Clean Burn, visit http://www.cleanburn.com or call 1-800-331-0183. For additional details on Saturn Furnaces, visit http://www.saturnfurnaces.com.
RELEASE AT: http://cleanburn.mediaroom.com/index.php?s=43&item=53
PHOTOGRAPHY: http://cleanburn.mediaroom.com/index.php?s=13&cat=12&mode=gallery
# # #