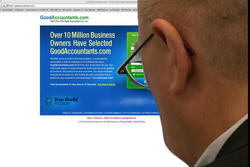 This new system is effectively converting passive website browsers into paying clients for accountants all across the country.
Lynbrook, NY (PRWEB) September 30, 2010
GoodAccountants.com, the nation's largest accountancy referral service, now provides accountants direct, round-the-clock access to corporate, not-for-profit, and individual tax payer clients through a new platform known as GA Access.
Using a high-tech, match-making computerized system that connects companies and individuals with local accountants within seconds of an online request for assistance being submitted through their website, GoodAccountants.com is quietly revolutionizing the accounting industry. "This new platform not only facilitates a fast and direct response from an accountant within seconds of a business owner coming on our website and requesting a referral to a local accountant, but it has also resulted in a spike in the conversion rate for accountants who are participating in our nationwide network," says Johanna Laurent, President of GoodAccountants.com.
GA Access offers member accountants 24 hours a day, 7 days a week access to leads generated in 'real time' from companies and individuals who frequent the GoodAccountants.com website in their quest to find the right accountant for their business or personal needs. "We have somewhat automated our referral process so that when a company using our website submits a request to us for assistance with finding an accountant in their area, the request is automatically sent by our computerized, match-making system directly to one of our member accountants, and it's all done within fifteen seconds," says Laurent. This recent addition to GoodAccountants.com' s referral services entails the generation of thousands of automated phone calls to member accountants, alerting them whenever a new lead is routed from the GoodAccountants.com website to their GA Acess In-Box which remains accessible to the accountant 24 hours a day, 7 days a week. The process quickly puts the accountant together with the prospective client sometimes within seconds, even before the website user has had a chance to navigate away from the GoodAccountants.com website. The automated phone call to the accountant is then followed by a text message that is sent to the accountant's mobile device along with an accompanying email which prompts the accountant to immediately contact the prospective client to ascertain their accounting needs. "This new system is effectively converting passive website browsers into paying clients for accountants all across the country," says Laurent.
GA Access is one of several new platforms GoodAccountants.com has deployed to help accountants and companies quickly find each other. Among the free marketing add-ons the company now offers through its GA Access portal are profile pages which are emailed within seconds to the website user after their request for a referral to a local accountant has been made at the GoodAccountants.com website. Profile pages list the services that are provided by member accountants along with their office address and travel directions and are even capable of serving up a YouTube video that features the accountant.
GA Access has become an important tool that connects accountants to business owners and individuals who use the internet almost exclusively to find professional service providers whose services they may need. Matt Brady, a certified public accountant based in Bowie, Maryland and member of GoodAccountants.com, believes the visibility he has received from the company has been extremely valuable. "An accounting firm is no different than any other business out there and needs to make a commitment financially to a marketing campaign to help further their business. I think GoodAccountants.com does a really good job of making a serious effort to market on my behalf and to bring me as many qualified clients as possible," says Brady.
Speaking of the valuable clients he has received from GoodAccountants.com, which has resulted in $15,000 in annual billings in just over a sixty-day period, Brady states, "In the last couple of months I've retained three of what I would consider to be large clients from GoodAccountants.com. I've retained a title and tag service company that does annual revenues close to $3 million dollars a year and I've retained a daycare and elementary private school that also does revenues between $2 and $3 million dollars annually and I've retained a private clinical evaluator that has some personal and corporate tax needs. You've got to realize that year after year these clients are going to stay with you, which generates a new round of billing each year," he adds.

To visit and learn more about GoodAccountants.com, please click here.
To see Matt Brady's YouTube video please, click here.
To learn more about the companies that have been retained by Matt Brady from
GoodAccoutants.com, please click here.

To view additional testimonials about GoodAccountants.com, please click here.
# # #