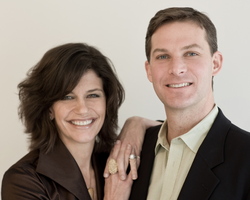 "Social Media is not just a way for your kids to keep in touch with their friends, it's a powerful business building tool"
Durham, NC (PRWEB) September 24, 2010
Amy Porterfield has made a career telling people what they don't want to hear. Her ability to see past the hype, and tell you exactly what you need, has made her the top consultant to some of the largest companies in the world. She has worked with top real estate moguls, celebrity chefs, travel industry executives, and a variety of Fortune 500 companies. She is also the co-author of the upcoming book, "Facebook Marketing All-In-One for Dummies" of the popular For Dummies reference book series.
On September 30th , 2010 Bria and Mark Simpson, founders of Excelerated Success Coaching Company, will interview Amy to get the most up-to-date information on what is and is not working in the ever changing world of social media.
Here are a few of the tips that will be covered:
*The #1 mistake most people make when it comes to social media marketing
*The top 3 strategies to generate cash...QUICKLY
*Best Bang for your Buck - a pros guide to which sites are best for you
*How to make social media easy, fun and highly profitable
*Amy's secret weapon to grow your business
To sign up for this complimentary, fun and lively interview, click here: http://exceleratedsuccess.com/amyp/.
"Social Media is not just a way for your kids to keep in touch with their friends – it's a powerful business building tool. Many businesses last year TRIPLED their incomes because they got online and put a face behind their business. Social networking is THE BEST way to build lasting and trusting relationships with potential clients and customers,"says Mark.
To create a successful online marketing strategy, business owners need to be aware of the new technologies and concepts that are being developed on a monthly basis. As an example, Facebook recently changed rules regarding the layout of the pages on their site that will effect a huge number of Facebook users. Keeping up with this updates and modifications can be a full time job. That is why it is so crucial to have people like Amy Porterfield or Bria and Mark Simpson who keep up with this changes and break them down into language small business owner's can understand.
For Amy Porterfield, her true passion is showing small business owners how to find their "sweet spot" in the social media world to turn their business and their brand into viral gold. This fits perfectly with the vision the Simpson's have of teaching these same entrepreneurs the latest strategies and techniques they need to incorporate into their business and their lives to achieve their goals and reach new levels of success.
The interview will discuss the art of engagement and online community building using Twitter, Facebook, YouTube and many other popular social media sites. Amy and Mark, will help demystify social media and will be SIMPLIFYING the entire process for you on this free Call.
Interested entrepreneurs should register for free to find out more:
http://exceleratedsuccess.com/amyp/
The tele-summit is being recorded and copies of the recording will be provided to everyone who signs up.
Bria Simpson, MA, a certified business and marketing coach, has owned four businesses, served as a business consultant and coached for 8 years. She has appeared on Fox News, Martha Stewart XM, Redbook, Newsday and many other publications. Mark Simpson has owned three businesses, including one he grew into a multi-million dollar company, as well as a current successful online business. Together, they are the "Dynamic Duo of Business Coaching" helping entrepreneurs and small businesses vastly accelerate their growth, with ease, so they can enjoy the life and the freedom they desire.
###