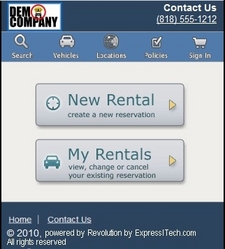 (PRWEB) September 28, 2010
It is so easy to use. Find one of the agencies listed below on Bing, Google, or any search engine, or simply type their URL into a mobile browser. ExpressITech's software will automatically redirect to the Mobile view.
All the rental steps have been tailored to fit on the small screen. Make a reservation and/or change existing reservations too!
Use an iPhone, Blackberry, Android, and most other SmartPhones to GO MOBILE! with car rentals.
There is no App to download.
Each site can be bookmarked with an icon or put on a favorites list for a quick and easy backlink to any of the car rental agencies listed below.
A short two weeks after product release, many independent car rental agencies have selected to be leaders and provide Mobile access. These agencies, using ExpressITech's Revolution reservation system on their websites, have enabled visitors using almost all types of popular SmartPhones to see their mobile rental centers and book or change online reservations with ease.
Use an iPhone, Blackberry, Android and most other SmartPhones to book online, or change reservation details on the fly at the airport or anywhere a SmartPhone can be used, effortlessly, with these leading- edge agencies:
New York City Car Rental Agencies:
---> Action, AllCar, AAMCAR and Prestige
Los Angeles Car & Van Rental Agencies:
---> Midway, Rent4Less, Blue Oval, and State Van
Canadian Agencies:
---> Winnipeg U-Drive,
---> TransCanada in Toronto & Montreal
Islands and Adventure Rentals:
---> Andy's - Grand Cayman,
---> Hawaiian Style - Honolulu,
---> APlus - Jamaica,
---> Rugged Rental - Salt Lake City
International Rentals
---> Car Italy and Tours
Just search online with a SmartPhone to locate these independent car rental agencies and make easy online bookings or changes to reservations.
###