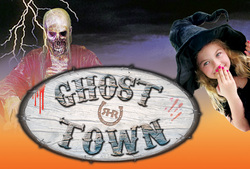 "A team of professional designers have worked for months to get this Ghost Town perfect for all our guests, young and old," said owner Steve Turk.
Highland, NY (PRWEB) September 25, 2010
Live actors, ghoulish ghosts, and hi-tech animatronics are culminating to make Halloween a memorable experience for the guests at the Rocking Horse Ranch in Highland, NY. For 4 weekends in October, "Ghost Town" will move into the Ranch and with it comes creative activities for toddlers, pre-teens, teens, and even the bravest adults.
Halloween attractions have been a signature piece for the Rocking Horse Ranch. With over 30-years' consecutive Halloween attractions, Rocking Horse knows how to scare. "We have professionals from all over helping put this together," said owner Steve Turk. "This is one of our favorite times, so we put our whole hearts into it!"
And there's plenty to go around. "Whether you're looking for a good scare yourself, or some family fun, "Ghost Town" will please all," said entertainment director Kyle Carson.
"Both the monster-filled corn maze and a dark blow-up pit 60 feet long are definitely for the PG13-plus brave of heart."
There's also Fort Tiny Fun House for kids, filled with pumpkin decorating, face painting, a black lit area, carnival games, and a sensory room. "The latter is one of my favorites," said Carson. "Are you touching eyeballs or grapes, brains or Jell-O? We love to hear the mixed sounds of screaming and laughing kids fill the house."
There's a beautifully designed 3D room in one of the barns, a re-creation of Davey Jones Locker. "Our artists have been working for weeks on this one attraction alone," said Turk.
No one is left out during this month-long Signature Spooktacular. Everyone gets prizes, every attraction is rain or shine, even the horse-drawn hayrides. And there's always a lot to do, including an indoor water park with slides and water games, classic scary movies, a Wii room, entertainment, and more. Guests can also choose to go apple picking at a nearby orchard.
The October Spooktacular culminates Halloween weekend with a costume ball, and trick-or-treating. "We've always catered to families, with an all inclusive package of three meals daily and 100-plus activities, no matter what the season," said Turk. "This October is just better than ever."
Interested in more information? Go to http://www.RockingHorseRanch.com and check it out.
Book a fun October weekend the whole family will remember.
# # #