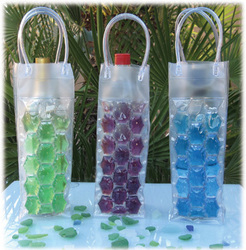 As wine and spirits beverage gifting continues to grow in popularity, consumers are seeking out unique gift packaging to complement their gift. These gift bags are gifts in themselves and are versatile for both wines and spirits alike
Tempe, AZ (PRWEB) September 27, 2010
Bella Vita is proud to announce its new line of Bella Vita Chill Wine Gift Bags. These freezable gift bags turn into mini ice packs and are stylistic and functional. Available in an assortment of colors, there is something for all occasions and seasons. Bella Vita is the only wholesaler that offers a non toxic freezing agent.
"Since Bella Vita's Chill bag launch, they have been one of our quickest selling products. It is is a great new novelty gift bag. The catchy bright colors attract people to them – it is like eye candy," said Marisa China, Marketing Director. "Bella Vita focuses on offering unique materials, designs and quality. The Chill bags are another unique wine gift bag geared towards making an impression," she added.
"As wine and spirits beverage gifting continues to grow in popularity, consumers are seeking out unique gift packaging to complement their gift. These gift bags are gifts in themselves and are versatile for both wines and spirits alike," said Gunnar Hammerbeck, Co-Founder.
Bella Vita is an import and wholesale company. Bella Vita Bags specializes in a variety of high-quality gift packaging and custom packaging for the wine and gourmet food industry. Bella Vita bags are adorned with unique decorative accents and are made of the finest materials with a focus on green, including, handmade papers, jute, printed papers and an assortment of cloths such as velvets, sheers and satins.
For more information about our wholesale wine bags, samples or to discuss custom packaging you can contact Marisa China by phone at 877.827.3638, email at marisa@bellavitabags.com or visit us online at http://www.bellavitabags.com.
# # #