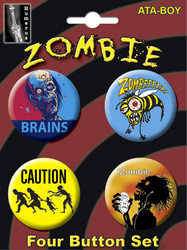 "The Zombie pop-culture surge has been building for years..."
Sherman Oaks, CA (PRWEB) September 27, 2010
Zombies have risen from the pop culture dead in recent years, and they show no sign of slowing down. Humerus, a Los Angeles based design company, is proud to announce three new licensing agreements that bring their "It's A Zombie World" images to stores near you.
"The response our zombie designs received at San Diego Comic-Con was so over the top we knew we had a hit." Said Humerus co-founder Mark Tavares, "By teaming up with these great partners we're able to share our images to a wider audience."
Now available to stores nationwide are Humerus Zombie t-shirts by Hot Properties Merchandising , Zombie refrigerator magnets and buttons by Ata-Boy Inc, and Zombie posters by NMR Distribution.
But the question is - Why Zombies? "The Zombie pop-culture surge has been building for years," says Tavares' partner Brett Dewey. "After years of Zombie-themed video games like 'Resident Evil' and 'Left for Dead' there has been a swelling fan base for the genre. " That fan base that has made books like Max Brooks' "World War Z" and Seth Grahme-Smith's "Pride and Prejudice and Zombies" bestsellers. And Hollywood has gone after its share of brains too, with movies such as last summer's Zombieland.
The "It's A Zombie World" images lean more toward social commentary and comedy than horror. They include a Zombie version of the iconic Obama "Change" poster that reads "Brains", a "Caution" Zombie Crossing Sign, and familiar-looking red, white and blue logo for the "Zombie Hunters League."
"When Humerus approached us we had been looking for a Zombie line to add to our mix of pop culture licenses," said Jude Albright of Ata-Boy Inc. "We are very happy with Humerus' images – and response from our retail partners has been great so far."
All three licensees have product shipping to stores in time for the Halloween season, and plan to continue to feed the pop culture hunger for Zombie goods with Humerus merchandise in the months to follow.
HUMERUS LLC is a Los Angeles based design firm that combines the talents of Brett Dewey and Mark Tavares to create images, characters and other properties available for licensing. http://www.HumerusOnline.com
ATA-BOY, INC. is a manufacturer of licensed magnets, buttons, stickers, mousepads and other novelty items for the pop culture retail market. http://www.ata-boy.com
HOT PROPERTIES MERCHANDISING INC is a manufacturer of licensed pop culture products including t-shirts, magnets, keychains, andd other novelty items. http://www.HotMerch.com
NMR DISTRIBUTION INC is a manufacturer of licensed posters, calendars and jigsaw puzzles. http://www.nmrdist.com
# # #