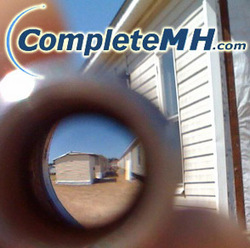 The customer loyalty here speaks volumes.
Pearl, MS (PRWEB) September 27, 2010
Complete Mobile Home Supply, a regional leader in hardware specialized for manufactured housing, has opened its doors to the rest of the country through a new website.
The retail storefront southwest of Jackson in Pearl, Mississippi has been serving homeowners and professional installers since 1983. Much like the mobile home industry itself, there is little flashy about this specialized hardware store. But lift the hood and you find a wealth of knowledge about air conditioning, plumbing, and the intricacies of mobile home parts that owners of the 9 million manufactured homes in the USA know is invaluable.
"Mobile homes are made differently than stick-built homes, to different specifications," advises general manager Dennis Clanton. "You're going to run into problems unless you get the part that is made to match, if not now then further down the line."
When manufactured homes roll off the factory line, they contain components seen only in this type of house production. Doors are a bit thinner, bath tubs smaller, and standards such as the arrangement of water supply lines match corresponding parts that fit exactly. Mobile home residents without a large retailer like Complete in their area are forced to install a wrong-sized part or wait several weeks for a small supply store to order the right item. Complete's online store gives the world access to a large inventory of niche supplies.
"The customer loyalty here speaks volumes," says E-commerce Director Jotham McCauley. "People walk in the door explaining a problem, they walk out with the right part in-hand and installation advice from someone that has worked on mobile homes for decades. Taking that expertise to the web has been a pleasure because you encounter so many people that are thankful to find someone who is actually familiar with the problem or part they have in their home."
The industry would prefer you call their product manufactured housing, which is certainly more applicable than the mobile home appellation that described the truly mobile residences people took with them as they followed work in the '40s and '50s. However residents and homeowners have continued to stick with the terminology mobile home parks and trailer homes, with all the glorious connotations associated with the subculture of such communities. Creating a positive experience within these communities and serving local customers like family have been at the core of Complete's principles since opening its doors.
"Quality and expertise have been the hallmarks to the store's decades of success. The concentration of manufactured homes in our area has enabled us to maintain a larger inventory of specialized parts than other stores," adds owner John Ditto. "The Internet allows us to reach homeowners that may not have the luxury of a well-stocked supplier nearby, and we are committed to providing the same high level of service to people no matter where they live." Since its launch in June the web store has served customers from California to Vermont, shipping mobile home skirting, plumbing fittings and door hardware to satisfied customers.
Complete Mobile Home Supply is located in Pearl, MS along the mobile home corridor containing one of the densest concentrations of manufactured housing in the country. Its FAQ pages address the inquiries of homeowners with answers to the specific repair, upkeep, and upgrade issues of mobile homes.
# # #