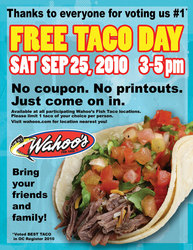 No coupons or cards, just walk right in and have your taco of choice
Santa Ana, CA (PRWEB) September 24, 2010
Wahoo's Fish Taco, is giving away free tacos in appreciation to all the customers for having picked Wahoo's as the #1 taco.
This Saturday, September 25th from 3 to 5 pm, free tacos will be given away at all participating Wahoo's in California, Colorado, Hawaii and Texas. No coupons or cards necessary, just walk right in and take your pick from ten different choices.
The Wahoo's Taco served today is the same original recipe created 22 years ago by the founders. The taco is a fusion of Asian, Mexican and Brazilian ingredients that results in a powerhouse of flavors. The signature fish taco has long been the fuel for surfers and now is enjoyed by all.
About Wahoo's Fish Taco:
Founded by brothers Wing Lam, Ed Lee and Mingo Lee, Wahoo's Fish Taco, a community mainstay and worldwide pop culture phenomenon, has been serving up its eclectic Mexican-Brazilian-Asian menu since 1988. Celebrated for its fresh food, pro-athlete support and charity involvement, Wahoo's is recognized across multiple states for its sticker-covered walls. During the past two decades, the restaurant chain has grown to include more than 50 locations throughout California, Colorado, Texas and Hawaii. To learn more about Wahoo's Fish Taco, please visit http://www.Wahoos.com.
# # #