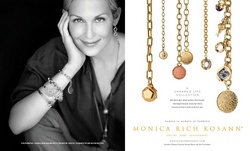 "Monica makes classic pieces that are timeless," noted Kelly Rutherford. "I just believe in buying things that can be passed down for many generations. Monica is a designer that makes that possible."
New York, NY (PRWEB) September 27, 2010
Luxury jewelry designer Monica Rich Kosann announced that actress Kelly Rutherford will appear as the face of the jewelry line for Fall 2010 & Spring 2011. As the brand's spokesmodel, Rutherford appears in all of the fall creative, set to debut in October fashion books and run through the spring season. Additionally, she is featured on the brand's website http://www.monicarichkosann.com, in social media and e-magazine campaigns, and in-store visuals.
"Monica makes classic pieces that are timeless," noted Kelly Rutherford. "I just believe in buying things that can be passed down for many generations. Monica is a designer that makes that possible."
Shot by Monica Rich Kosann herself, the fall advertising campaign features Rutherford wearing jewelry from the fall collection. One ad showcases the brands' 18k gold Gate Collection necklaces and the other features a charm bracelet from its Charmed Life Collection. "Kelly personifies our brand," said Monica Rich Kosann. "Her timeless elegance, beauty and style are the very attributes I hope are conveyed through every piece in the collection."
About Kelly Rutherford
Kelly Rutherford stars on TV's hottest show "Gossip Girl," where she plays the role of Blake Lively's character's mother, "Lily van der Woodsen." Created by Josh Schwartz, the hit show airs Monday nights at 9 pm on The CW Network. The show returned for its highly-anticipated third season September 14th. Rutherford was last seen on television starring opposite Benjamin Bratt and Dennis Hopper in the Jerry Bruckheimer series "E-Ring" on NBC. She notably starred in the 1990s hit series "Melrose Place" for three seasons, in the Emmy and Golden Globe nominated 40's drama "Homefront," and in the comedy "Brisco County Jr." In film, Rutherford has appeared in "Scream 3," "I Love Trouble" with Julia Roberts and Nick Nolte, and the independent film "Swimming Upstream." She is a supporter of the (RED) campaign through Bugaboo, the Step Up Women's Network, Healthy Child Healthy World, and is an avid environmentalist who values an organic and green lifestyle personally and for her family. In September 2009, Kelly was named Big City Moms' MOM OF THE MONTH in NYC and prior to that was honored at the Step Up Women's Network Inspiration Awards.
About Monica Rich Kosann
Monica Rich Kosann's eponymous jewelry and home collection offers modern heirlooms that maintain a sense of fashion and timeless style, rooted in the concept that every woman has a story to tell. Known for 18-karat gold and sterling silver lockets, charm bracelets, and image cases, the brand strives to help customers celebrate their most cherished memories through their personal style. Monica's collection is sold in the brand's signature shop in Bergdorf Goodman and over one hundred fine jewelers and specialty stores including: Neiman-Marcus, Richard's and Mitchell's. A nationally recognized fine-art portrait photographer, Monica Rich Kosann is also a published author of two lifestyle books, The Fine Art of Family and Living With What You Love, and has been featured in magazines and on television. She was awarded the FGI Rising Star Award for Fine Jewelry in 2010 and was also recently inducted into the CFDA.
###