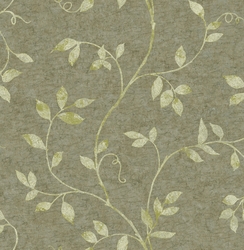 When you select a design printed on Wallquest's Eco Chic wallpapers you can be confident that these steps are taken with concern for the sustainability of our natural resources
Wayne, PA (PRWEB) September 30, 2010
Bring the outdoors in to create a sanctuary with decorative papers that not only reflect the natural environment, but help to preserve it.
The new Brasilia wallpaper collection from Wallquest is a luxurious take on organically inspired patterns. Drawing inspiration from leaves, grasses, tree bark and other natural elements, these papers are designed as Eco Chic™ by Wallquest. The process begins with carefully selected paper from suppliers who use pulp from well-managed, renewable resource forests or recycled sources. The production processes rely solely on solvent-free, water based inks. Any water used during production is professionally filtered and cleaned before it is returned to the environment.
"When you select a design printed on Wallquest's Eco Chic wallpapers you can be confident that these steps are taken with concern for the sustainability of our natural resources," said Beth Lyons, Marketing, Wallquest.
The rich textures found in nature are reproduced through the use of special inks that raise the surface of the patterns for an embossed or etched texture and, combined with layers of metallic ink, create a juxtaposition of the natural with the opulent.
Climbing leaves and unique golden grasses evoke the landscape of the rainforest in an array of earthy tones and finishes. Tree bark textures look and feel luxurious, and textural linens with metallic fibers form a look that is high design.
Brasilia is the newest entry to Studio 465, a wall covering collection inspired by the world's greatest cities. In addition to Brasilia, Studio 465 includes seven lines – Milano, Buenos Aires, Athens, Stockholm, London, Prague and Vegas – which were introduced to the U.S. market between 2008 and 2010.
Family owned and operated, with three manufacturing plants in the United States, Wallquest is one of the largest and most innovative wall covering manufacturers in the world. The heritage of Wallquest goes back to the 1820's. Its staff of talented artists creates distinctive collections by staying current with trends as well as drawing on its rich heritage of style and cultural themes. Today its products are sold in more than 60 countries.
To view these and other collections, visit http://www.wallquest.com or call 888-425-WALL.
###