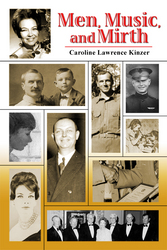 Palm City, FL (Vocus) September 24, 2010
Men, Music, and Mirth, a new book by Caroline Kinzer has been released by RoseDog Books.
It is difficult to categorize Men, Music, and Mirth because it is an amalgamation of several genres: personal memoir, travel adventures, commentary and, above all, a love story and an intimate family saga with the warmth, insight, and pathos of a novel. It is a sentimental journey through the American century. It includes opinions and observations formed by the old America and nostalgia for the civilized rectitude of the era. It is also a plea for Americans to believe that whatever its shortcomings, America continues to be a refuge for the world.
Heavy subjects of moral complexity, including schizophrenia and Alzheimer's, are infused with lightness. It is a wonderfully frank and engaging look at one family's triumphs and tragedies.
The book is full of cameo appearances and vignettes of a wide range of characters from Buffalo Bill to Karl Lagerfeld and dozens of celebrities from the golden age of Hollywood, along with Wharton-esque glimpses of the period.
The author is the daughter of Larry Lawrence, at one time a well-known Midwestern newspaper editor, radio broadcaster, famed raconteur, and Hollywood consultant. Ms. Lawrence was a child protégé of the George Whiteman pianist and Liberace teacher Florence Bettray Kelly. She has been a TV panelist, chanteuse, attorney, politician, socialite, and world traveler.
Educated in an ethos in which ideals and a certain kind of personhood was exemplary, she tells with wry bemusement of lessons learned as a daughter, wife, and mother over decades of public and private service and does not apologize for clinging to much of that ethos or for her reverential devotion to liberty and the law, not as it is now practiced, but as it was imparted to her. Her memories of childhood, unlike those of so many who write about their upbringing, are of a lavender life of music competitions, Hollywood summers, shelves of books, a stream of amusing dinner guests, and loving parents.
Men, Music, and Mirth is a 156-page paperback with a retail price of $17.00. The ISBN is 978-1-4349-9965-8. It was published by RoseDog Books of Pittsburgh, Pennsylvania. For more information or to request a review copy, please visit our virtual pressroom at http://www.rosedog.com/pressroom or our online bookstore at http://www.rosedogbookstore.com.
###