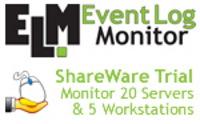 Vancouver, WA (PRWEB) September 25, 2010
TNT Software, Inc., a recognized leader in real-time Windows server monitoring and automated event log management solutions, today announced the release of their newest version of ELM Event Log Monitor 6.0 as their first shareware product. The introduction of this proactive log management and compliance solution demonstrates the company's dedication to providing System Administrators and IT Managers with easy to use tools that provide immediate value.
The new version of ELM Event Log Monitor 6.0 provides centralized monitoring, alerting and reporting on Windows event logs for up to 20 Windows Servers, and 5 Windows Workstations. ELM Event Log Monitor will reliably collect events, insert them into a Microsoft SQL Server Database, launch email notifications, display the events in customizable Views, and generate Security and Management reports. An upgrade path is available to TNT Software's flagship ELM Enterprise Manager 6.0 product that preserves configurations and expands monitoring functionality.
"ELM Event Log Monitor is a powerful tool IT Departments can rely on to manage the richest source of server health and security information," commented Brent Skadsen, Vice President of Sales and Marketing. "Offering 25 licenses to use for a year, it gives System Administrators the opportunity to experience the benefits of real-time event log monitoring in their environment, instead of just a handful of systems to evaluate the product."
"This shareware product provides real value to IT Managers. It will also give them a glimpse of the architecture and ease of use of our comprehensive server monitoring product ELM Enterprise Manager."
For over 13 years, TNT Software has provided software that centralizes system health, status and performance data of distributed systems. The data is displayed in dynamic views for quick analysis, triggers alerts for rapid response times and accurately documents activities for compliance and performance trending.
To download the new ELM Event Log Monitor 6.0, visit http://www.tntsoftware.com.
About TNT Software
Founded in 1996 by a veteran System Administrator, Steve Taylor, TNT Software is a respected leader in providing centralized monitoring, alerting, and reporting solutions for Microsoft Windows operating systems. With thousands of installations worldwide, TNT Software is the go-to tool for System Administrators who want a fast, simple and reliable way to centrally manage their systems. Our vision is to exceed the expectations of System Administrators and IT Managers with the solutions we provide making their jobs easier.
The names of actual companies and products mentioned herein may be the trademarks of their respective owners.
For more information, press only: Brent Skadsen - TNT Software, 360-546-0878, pr(at)tntsoftware(dot)com
# # #