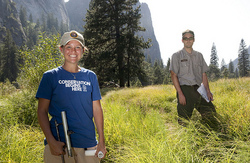 We're so pleased to be able to offer these service and career development opportunities to America's emerging stewards
Oakland, CA (Vocus) September 24, 2010
For the second year, Amtrak's partnership with the Student Conservation Association (SCA) is enabling high school and college age students from around the country to gain real, hands-on experience preserving Yosemite National Park, one of Amtrak's most popular destinations.
"As the nation's intercity passenger rail operator, Amtrak is committed to making a positive environmental impact," said Alan Orchison, Amtrak Senior Director of Field Marketing & Industry Alliances. "Along with supporting SCA's work, we are excited to build upon the more the 6,000 hours of service accomplished by students in 2009."
This year, Amtrak and SCA are sponsoring high school and college student to contribute to the preservation of Yosemite while gaining valuable new skills and career experiences. The students have been working on a variety of projects alongside seasoned National Park Service professionals including removing unwanted campsites and invasive plants; monitoring water quality; updating museum archives; and enhancing the visitor's experience and their outdoor safety.
SCA also recently named Amtrak its "Official Alternative Transportation Provider" as part of the new agreement, under which Amtrak will provide reduced-cost transportation for eligible SCA student programs.
"SCA is again delighted to partner with Amtrak and the National Park Service to help conserve Yosemite National Park while continuing the tradition of young people caring for their environment," said Jay Watson, Western Regional Director for the Student Conservation Association. "We're so pleased to be able to offer these service and career development opportunities to America's emerging stewards," he said, noting this year's students hail from across the country including Maine, California, Florida, Illinois, Michigan, Montana, New York and Texas.
This partnership with SCA furthers Amtrak's commitment to be a transportation leader on environmental issues and reinforces its other green programs such as offering passengers the opportunity to purchase carbon offsets for their rail travel and direct those funds to such areas as certified sustainable reforestation and alternative energy projects.
Approximately 3.4 million people visit Yosemite National Park each year. For more than 30 years, SCA has sent crews and interns to Yosemite to work in a wide variety of disciplines. Many graduates of the program go on to careers in the National Park Service.
About the Student Conservation Association
SCA is a nationwide conservation force of college and high school students who protect and restore America's parks, forests, refuges, seashores and communities. For more than 50 years, SCA's active, hands-on practice of conservation service has helped to develop a new generation of conservation leaders, inspire lifelong stewardship, and save the planet. SCA is a non-profit headquartered in Charlestown, New Hampshire with regional offices in Washington D.C., Oakland, Pittsburgh, Philadelphia and Seattle. For further information, visit http://www.thesca.org.
About Amtrak
As the nation's intercity passenger rail operator, Amtrak connects America in safer, greener and healthier ways. Last fiscal year (FY 2009), the railroad carried 27.2 million passengers, making it the second-best year in the company's history. With 21,000 route miles in 46 states, the District of Columbia and three Canadian provinces, Amtrak operates more than 300 trains each day—at speeds up to 150 mph (241 kph)—to more than 500 destinations. Amtrak also is the partner of choice for state-supported corridor services in 15 states and for several commuter rail agencies. Visit Amtrak.com or call 800-USA-RAIL for schedules, fares and more information.
# # #