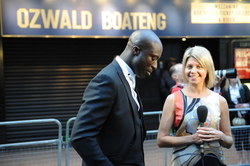 New York, NY (PRWEB) September 27, 2010
Globally renowned for melding traditional tailoring techniques with sharp cuts and a very modern use of colour, Ozwald Boateng has dressed an incredible array of A-list talent (David Bowie, Mick Jagger, Robbie Williams, Daniel Day Lewis, Jamie Foxx to name but a few) and, even, the world's most powerful man Barack Obama.
To celebrate 25 years in menswear, the iconic Savile Row tailor closed London Fashion Week with a spectacular show held in Screen 1 of the Odeon Leicester Square on Wednesday 22nd September 2010.
The red carpet event in Leicester Square was attended by over 1,500 guests including VV Brown, Amber Rose, Piers Morgan & Celia Walden, Kelly Hoppen, Sam Branson, Mica Paris, Ed Vaizey - Minister for Culture, David Haye, Lisa Butcher, Melissa Odabash, Michelle Williams, Jo Wood and Nick Rhodes.
Footage from the red carpet was transmitted to screens inside the Odeon. Boateng also used the opportunity to exclusively preview the documentary film 'A Man's Story,' which candidly charts his business and personal life throughout the late nineties and the noughties. Filmed over the space of 12 years, it provides a unique insight into how the most talked about tailor on Savile Row has become a global luxury menswear brand.
The groundbreaking show began featuring over 100 models, including Tyrone Wood & Sam Branson, wearing both A/W 2010 and S/S 2011 collections. To further add to the cinematic feel of the evening, the event featured surround sound and a bespoke fragrance (created specifically for Ozwald Boateng for the event by Professor de Parfum Roja Dove) was piped into the auditorium, immersing viewers in an unforgettable 4-dimensional experience.
Following the show the 100 models walked in procession through Leicester Square, across Piccadilly and up Regent Street to Ozwald Boateng's Savile Row atelier.
# # #