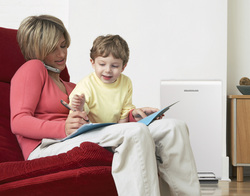 "Electrolyzed water technology has proven effective in safely suppressing various bacteria and germs, not to mention the benefits in air treatment eliminating unwanted odors and allergens."
Chatsworth, CA (PRWEB) September 24, 2010
School is back in full session for the new school year, and students, teachers and other staff are being exposed to and bringing home airborne germs, such as sickness-causing bacteria and other contaminants, that could possibly keep them home from school and spread to other family members. According to WebMD, children lose nearly 22 million school days due to common airborne ailments. A WebMD Feature states, "With so many children in one place and sharing supplies, it's no wonder that the classroom can be a breeding ground for the germs."
SANYO North America Corporation (SANYO) offers another option to any health regimen with its unique home-use air purification system, the Air Washer PlusTM, the first of its kind in the U.S. that uses electrolyzed water technology to suppress airborne germs and bacteria, to reduce airborne pollen and allergy-causing dust, and to eliminate unpleasant odors in the home. The system's electrolyzed water technology works in tandem with the HEPA filter, allowing the maximum amount of cleansing power possible, effectively "cleaning the air with the power of water"TM. The benefits of the air purification system work together with other aspects of a health regimen in synergy, adding another line of defense targeting air quality in the home.
Air Washer Plus is available online at SANYOStore.com and at select national and regional retailers that focus on creating healthier air environments, with a suggested retail price of $249.99. Shipping is free on SANYOStore.com for a limited time.
"SANYO has provided numerous products using its unique electrolyzed water technology dating back to 1987, but this is the first air treatment product SANYO has introduced to the U.S. for home use," said Tom Van Voy, Vice President and General Manager of the Consumer Products Group for SANYO North America. "Electrolyzed water technology has proven effective in safely suppressing various bacteria and germs, not to mention the benefits in air treatment eliminating unwanted odors and allergens."
A high performance 4-stage True HEPA filtration system removes 99.97% of airborne particles and allergens, working together with the electrolyzed water to effectively neutralize odors and eliminate the particles that cause allergies.
Efficient air distribution is another innovative feature of this product. The Air Washer Plus uses a 3-directional air distribution system to maximize the flow of air, which helps to clean all areas of the room. Many air cleaners or purifiers only have one output but the SANYO unit provides air in upward stream, leftward stream, and rightward stream to cover the room.
For more information on the Air Washer Plus and the technology used inside, please visit http://us.sanyo.com:80/Consumer-Air-Purification-Systems.
About SANYO
SANYO Electric Co., Ltd. is a global, leading provider of energy, environment, and lifestyle applications. Digital Solutions, a division of SANYO North America Corporation (SANYO North America is a subsidiary of SANYO Electric Co., Ltd.), is based in Chatsworth, California, and is a service and sales division with two main groups: Corporate Solutions and Consumer Solutions. The division markets digital projectors, Dual Cameras, digital still cameras, home appliances, security video equipment, audio systems, and portable electronics. For more information on SANYO, please visit http://us.SANYO.com.
Source: SANYO North America Corp.
Note to the media: Hi-res images can be downloaded from http://us.sanyo.com/Air-Purification-Systems-Products/Air-Washer-PlusTM.
# # #