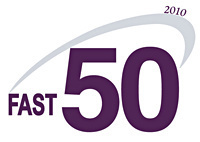 "It is such an honor to be recognized by the Business Journal and the "Fast 50" awards program. We are extremely proud to be recognized along side of the top 50 privately owned companies in the Triad." said Confiance President Bill Demarest.
Greensboro, NC (PRWEB) September 24, 2010
Confiance IP Solutions, Inc. announced that it has been awarded with the "#2 Fastest Growing Company in the Triad" during the Business Journal's Fast 50 awards ceremony held at High Point University on September 22, 2010.
The Business Journal's FAST 50 Awards Program is the premiere business-growth competition in the Triad. This year's tenth annual FAST 50 Awards Ceremony and special publication will continue to honor the successes of private businesses and their owners. The growth and the contribution of these 50 dynamic and elite winning companies will continue to have a strong impact on the Triad's economic success in the coming years.
"We are so appreciative to have been chosen for this honor. Confiance has invested heavily in our 2009 growth and we are excited to see those investments flourish. Over the last 3 years we have grown our sales revenue 470% and grew our employee family by 260%," said Confiance VP of Engineering Richard Collins.
About Confiance IP Solutions:
Confiance is an Cisco Silver Partner and an EMC Velocity Partner that specializes in advanced technology solutions such as Unified Communications, Data Center, EMC Storage, IP Video, Wireless and Local/Metro/Wide Area Networking. Confiance IP Solutions has established itself to make every customer a "Highly Referable Customer."
# # #