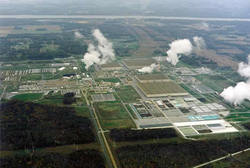 "MHF has nearly 15 years of experience serving on DOE projects in a variety of capacities and is pleased to continue being of service at the Paducah site."
Wexford, PA (PRWEB) September 26, 2010
MHF Services (MHF), a leading provider of packaging, transportation, logistics and technical services, is part of a team that was awarded a small business contract by the US Department of Energy (DOE) for environmental remediation activities at the Paducah Gaseous Diffusion Plant in Paducah, KY.
MHF is among a team of seven subcontractors that will provide services under the direction of the prime contractor, LATA Environmental Services of Kentucky, LLC, which was awarded a five-year contract by the DOE estimated at approximately $285 million.
MHF will provide packaging, including railcars, containers and liners; on-site labor; logistics; and rail transportation of waste material generated by decontamination, decommissioning, and remediation activities at the Paducah site. MHF will transport the material in its privately owned rail equipment to predetermined waste processing and/or disposal facities for disposition. MHF will provide transportation and disposition specialists to assist with the shipments.
"We are proud to partner with LATA and the other team members on this significant, ongoing project for the DOE," said Scott Dempsey, Vice President and Director of Sales and Marketing. "MHF has nearly 15 years of experience serving on DOE projects in a variety of capacities and is pleased to continue being of service at the Paducah site."
MHF has provided packaging and transportation services for the Paducah site previously under other contracts, dating back to 1997. MHF performed the first-ever transmodal (rail-to-truck) shipment from the Paducah site in 2003.
The Paducah Gaseous Diffusion Plant has been in operation for about 50 years. The site supported Federal Government and commercial nuclear power missions, resulting in contaminated areas on-site and in surrounding areas.
The site is transitioning from being solely an enrichment operations facility to environmental cleanup, waste management, depleted uranium conversion, deactivation and decommissioning, re-industrialization, and long-term stewardship in accordance with applicable DOE directives.
About MHF Services
MHF is an integrated packaging, transportation and logistics provider that offers seamless solutions for generators and shippers of radioactive, hazardous, and non-hazardous waste, materials, and byproducts. The company's customers include government agencies such as the U.S. Army Corps of Engineers, the U.S. Department of Defense, the U.S. Department of Energy, and others. MHF also provides transportation and logistics solutions to companies in the nuclear utilities, environmental services, mining, metals, chemical, and petrochemical industries.
###