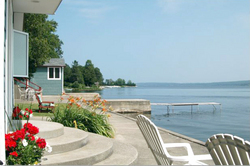 "In today's real estate market, a real estate auction is the perfect opportunity for sellers to be matched with qualified buyers in a quick sale. Bidders know the seller is committed to selling and sellers can cut out the onerous carrying costs by closing
Sturgeon Bay, WI (PRWEB) September 28, 2010
Condominium/Waterfront Cliff Dweller's Resort Buyers will have an opportunity to own a piece of historic charm from "Old Door County" for just a fraction of the original list price. Situated between the cliffs and 550' of shoreline, Cliff Dwellers Condominiums began as the Cliff Dwellers Resort Cottages that originated on this site in 1957. This project still carries that resort feeling and historic charm of "Old Door County," while providing a comfortable, peaceful retreat for the mind and body.
Micoley & Company Auctions will be hosting a live Auction on October 30th, 2010 at 11am. Minimum bids start at just $40,000, which is up to 73% below the original list price of $149,900. The condominiums offered include one and two bedroom units ranging in square footage from 318-782. All units were recently remodeled and include all furnishings, cable, phone, air conditioning and gorgeous water views.
Cliff Dwellers is convenient to all of Door County's 300 miles of scenic shoreline, 11 golf courses, 10 lighthouses, 5 Wisconsin State Parks, incredible art galleries, musical entertainment and fine cuisine. Resort amenities include an indoor whirlpool and sauna, outdoor heated pool and sun decks, bicycles, ping pong, rowboats and the use of charcoal or gas grills.
"In today's real estate market, a real estate auction is the perfect opportunity for sellers to be matched with qualified buyers in a quick sale. Bidders know the seller is committed to selling and sellers can cut out the onerous carrying costs by closing within 30 days. Real estate auctions are a win-win situation for everyone involved in this tough market," said Wade T. Micoley, president of Micoley & Company Auctions, based in Green Bay, WI. To broaden the reach of the event, Micoley Auctions is offering broker cooperation compensation. This is being extended to qualified agents who pre-register their clients. Units are available for purchase prior to auction.
Private appointments can be arranged for showings. High bidder will be required to submit a non-refundable cashier's deposit on day of auction. Prospective bidders should visit the Micoley & Company Auction website at http://www.micoleyauctions.com or call Wade T. Micoley, President, at 920-617-9199.
SOURCE Micoley & Company Auction Company
# # #