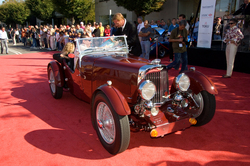 Manhasset, NY (PRWEB) September 27, 2010
The 6th Annual Americana Manhasset Concours d'Elegance will take place on Sunday, October 10th, 2010. The event has grown into one of New York's premier luxury car events featuring 200 rare, privately owned cars that compete for Best in Show as well as Best in Class titles. We are excited to welcome this year's guest of honor, automotive designer, Tom Tjaarda.
The 2010 event is a Salute to Classic Coachbuilders of the 20th Century. In keeping with this theme, Americana Manhasset is pleased to present Peter Kalikow's 1971 Momo Mirage, along with a wooden production model of the car.
Other notable cars that will participate in this year's competition are (list in formation): a 1957 Ferrari 250 GT Boano Coupe, a 1961 Ferrari 250 GT California, The Baja Boot, (which Steve McQueen raced in the 1968 Stardust 7-11 off-road race and the 1969 Baja 1000), a 1973 Alfa Romeo Zagato 1600, and a 1959 Ferrari 410 Superamerica.
Official judging begins at 9:30 am. Howard Krimko will serve as Chief of Judges for the event. Other judges include Paolo Garella, an automotive consultant based in Turin, Italy. The results of the competition and the award presentation, courtesy of Tiffany & Co., will take place at 2pm on the north side of Americana Manhasset. Event parking will be located at Macy's on Northern Boulevard and Community Drive. Continual shuttle service is available to Americana Manhasset.
Event sponsors include Shawn Elliot Luxury Homes, Plycon Transportation, Sterling and Sterling and Chartis Insurance, Deutsche Bank, nuBest Salon, Long Island Plastic Surgery Group and Teamspeed.com. Our automotive partners are Aston Martin Long Island, Autosport Designs Inc - Lotus Motor Cars of Long Island, Bentley Long Island, Exotic Classics, Ferrari Maserati Long Island, Manhattan Motorcars, Porsche Roslyn, Rolls Royce of Long Island, and Universal Autosports.
This year, the Concours will benefit the New Leadership Division of North Shore Long Island Jewish Health System. NLD raises funds for the Child Life Program at Steven & Alexandra Cohen Children's Medical Center of New York, formerly Schneider Children's Hospital. A special raffle drawing for a 2010 Maserati Quattroporte will be held at the conclusion of the Concours award presentation. The car was provided by Maserati Long Island as part of a fundraising initiative to benefit the NLD. Tickets are $250 per ticket or five tickets for $1,000. Only 1,200 raffle tickets will be sold.
About Americana Manhasset:
Americana Manhasset is a premier collection of sixty fine shops, including Prada, Gucci, Chanel, Hirshleifer's, Valentino, Cartier, Hermès, Louis Vuitton, Tiffany & Co., Dior, Fendi, Ralph Lauren, Salvatore Ferragamo, Brooks Brothers, Loro Piana, Toku Modern Asian and more, all within a unique outdoor environment designed by renowned architect Peter Marino and landscape designer Oehme van Sweden. Americana Manhasset offers a complimentary Personal Shopping Service, a remarkable luxury fashion and gift resource. Located on Long Island's beautiful North Shore, Americana Manhasset is 20 miles from Manhattan and 50 miles from the Hamptons. For more information on Americana Manhasset or the Concours d'Elegance, please visit our Facebook page, Americana Manhasset blog, and americanamanhasset.com.
# # #