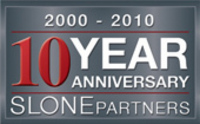 Throughout our association, I have been extremely impressed with Slone Partners' highly focused leadership style, executive skills, and savvy business acumen that have enabled the company to become the diagnostic industry's premier national search organization in a relatively short period of time
Miami, FL (PRWEB) September 27, 2010
Slone Partners, the premier national search organization specializing in the diagnostic laboratory industry, will mark its tenth anniversary on October 1, 2010.
Launched in 2000 by its founder and CEO, Adam Slone, and operated out of the basement of his home for the first year, the company has grown from a firm primarily placing sales talent with clinical laboratories to become a national resource for the clinical, molecular diagnostics, and anatomic pathology laboratory industries. Today, many of Slone Partners' clients are involved in the latest cutting-edge cancer and disease management technologies, such as micro array, gene expression, biomarker analysis, and circulating tumor cells.
Slone Partners' entire recruitment team is from the top ranks of the laboratory industry. Tara Kochis, a top-producing laboratory sales representative and former recruiter in the banking and finance sector, joined Slone Partners in 2004 and now serves as its President. Leslie Loveless brought more than 10 years of health care sales, training, and recruiting experience to the company in 2007 and now serves as its senior vice president and partner. Today, each member of the recruitment team has at one time worked for major national laboratories, including American Medical Laboratories, Quest Diagnostics, Lab Corp., and Ameripath. "Their unique knowledge of the industry and the science helps to provide our clients with quality candidates that ultimately build strong organizations," Mr. Slone said.
Mr. Slone believes the company's success in its first 10 years is due to the creation of quality procedures, and processes, development of a huge network of contacts in the diagnostic industry and maintaining continual contact with these candidates through its newsletter and through the attendance of many prominent industry conferences. Slone Partners' database of candidates comprises over 65,000 executive, management, scientific/medical/technical, and sales personnel actively engaged in the diagnostic laboratory industry. Slone Partners also presents annually the Executive Compensation and Benefits survey at the Executive War College and also presents at various industry conferences throughout the country. Ms. Kochis will be presenting at the national ASCP conference in October 2011. Mr. Slone is a member on the advisory board for Washington G 2 Reports.
The ability of the company to stay on top of advances in molecular diagnostics and anatomic pathology was facilitated in 2007 with the creation of the Slone Partners Advisory Board. Dennis Weissman, president of Dennis Weissman & Associates and founder of Washington G-2 Reports, was its first member. "Throughout our association, I have been extremely impressed with Slone Partners' highly focused leadership style, executive skills, and savvy business acumen that have enabled the company to become the diagnostic industry's premier national search organization in a relatively short period of time," Mr. Weissman said. Dr. Daniel H. Farkas has recently joined our advisory board, which will further advance our knowledge in the molecular diagnostics field.
"Slone Partners has developed unique knowledge and relationships within the diagnostic laboratory industry by working intensively with our clients and focusing on quality and processes so that they can build exceptional teams," Ms. Kochis said.
About Slone Partners
Slone Partners is a national recruitment firm specializing in delivering top executive, managerial, and sales talent to the diagnostic laboratory industry. The firm's management and recruitment team have all held key positions at highly regarded laboratories across the U.S., giving Slone Partners a unique and extremely knowledgeable perspective on best practices for hiring successful candidates in a laboratory setting. In addition, Slone Partners leverages its extensive database of management, sales, and executive candidates built through more than a decade of networking, attending prominent industry conferences, and placing highly qualified candidates in positions throughout the U.S. For more information on Slone Partners, please visit http://www.slonepartners.com.
# # #