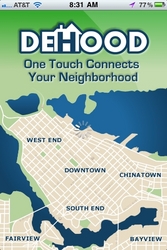 Palo Alto, CA (PRWEB) September 24, 2010
DeHood released a new version of its neighborhood networking solution which connects people to what's happening in their neighborhood. It is available free at the Apple App Store for iPhone and iPad. DeHood version 2 has critical features including real neighborhoods, the KingOfDeHood™ game, virtual currency and a unique "explore" function that enables users to engage with other neighborhoods and cities.
A tweet and video interview by Robert Scoble offers a deeper view: @Scobleizer: Seeing @DeHood which is using location and mobile to make neighborhoods stronger.
Scobleizer: Video: @DeHood uses location to bring you news of the neighborhood you're in (like Yahoo Groups meets Foursquare): http://t.co/x99Er7s
"As a community activist I've struggled to find ways to use social media tools to build real relationships locally," said Lou Covey, president of Sustainable Redwood City. "When I found DeHood I knew I had the tool to build real -- not virtual -- communities, right in my own neighborhood."
"One of the hottest categories in geolocation is neighborhood networking, said Rob Reed, founder and CEO of MomentFeed. "The vision for many of these apps is to strengthen the very fabric of our communities. With DeHood, you can track what's happening in your neighborhood, share your favorite places, and grease the wheels for actually meeting people. After all, if you've made contact through the app, it's a lot easier to say "Hello" in the real world. In the end, making connections with your neighbors can lead to safer, more productive, and more sustainable communities.
"This release takes us one step closer to realizing our full vision of connecting communities deeply in fun and meaningful ways," said Babak Hedayati, CEO of DeHood, Inc. "Our rich location-based technology platform goes beyond the checkin feature and addresses the real need for people to connect with their communities."
What users are saying about DeHood version 2:
"The new update of DeHood really motivates me to be active… – Tan J.
"Damn it's Improved! That's wassup!" -- Francisco E.
"LOVING DA NEW LOOK DeHood!" – Millie D.
DeHood version 2's new features include:

Dynamic Boundary Engine for Neighborhoods and Cities - All "Buzz" posted in DeHood, including Shouts, Comments, Deals, etc., are geo-tagged according the neighborhood where the post originates.
Global City Centers - Users outside the US are geo-tagged in their respective cities and are able to visit other cities around the world using the new "Explore" function. City and Neighborhood "entity pages" have been introduced to enhance/organize the Explore function and to help DeHood users learn more about their "Virtual Visits" to other cities.
KingOfDeHood™ Game - DeHood version 2 introduces "Neighborhood Kingdoms" with Royalty & Nobility ranks and game dynamics. Players compete for titles and gain points and experience by contributing content and interacting with others on the DeHood social graph. The app now includes an integrated points system (for geo-coded actions/entities) and a virtual currency ("HoodBucks™") which supports incentive-based programs, monetary transactions and the purchase of virtual goods.
Enhancements to shopping and major brands, including "Brands Around Me," "Map Brands," and the addition of brand icons to the lists of brands.
DeHood version 2 gives users more control over social sharing with Facebook and Twitter, email notification settings, and includes changes to the graphical user interface to support all new features and the KingOfDeHood game.
To see a video of what you can do with DeHood, visit:
http://www.youtube.com/watch?v=16eHbKIVfHI
For more details on the new functionality in Dehood, and DeHood's overall goals, visit:
http://blog.dehood.com/blog
About DeHood
DeHood is the first total neighborhood solution for building hyperlocal communities. DeHood Inc. is a privately-held company based in Palo Alto, CA, founded by a team of entrepreneurs with extensive experience in creating groundbreaking social networking, e-commerce, mobile and consumer Internet businesses.
###