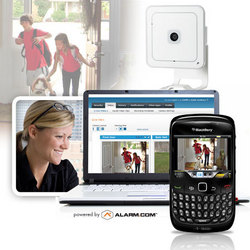 Vienna, Virginia (PRWEB) September 27, 2010
Alarm.com today announced that it has established an agreement with Security Networks to offer Alarm.com's web-enabled Video Monitoring solution to customers through Security Networks' growing network of affiliates. Alarm.com's Video Monitoring solution is fully integrated with its advanced wireless and web-enabled security and interactive services, allowing customers to easily control cameras and keep an eye on their homes and businesses remotely.
Gary Franklyn, Vice President of Business Development at Security Networks said, "With Alarm.com Video Monitoring, our affiliates can now take advantage of an additional source of recurring monthly revenue when offering the Alarm.com platform. Without a doubt, customers who choose this solution will benefit greatly from integrated security and increased property awareness."
With Alarm.com's easy-to-use, versatile and powerful Video Monitoring solution, customers will be able to actively protect their investments using wireless IP cameras that can trigger recordings when there is motion. Additionally, customers can receive motion, event and sensor-triggered recorded clips and view live video from one or more cameras from anywhere at any time using a web-enabled computer or mobile device, and customers can download free Alarm.com apps for iPhone, BlackBerry and Android devices.
"As a Security Networks affiliate who is already successfully selling Alarm.com Video Monitoring, we are very pleased with this development," said Greg Montgomery, Vice President of Operations at TYM Security. "It will allow us to continue to rapidly grow our video monitoring business and increase our RMR, without having to wonder whether the accounts will be funded."
Alarm.com Video Monitoring is ideal for traditional security applications, such as capturing footage of a burglary or vandalism, yet is also designed for a number of everyday applications that have important ramifications for families, homeowners and business owners.

Residential customers can achieve greater peace of mind by using Alarm.com Video Monitoring to watch over children, pets, driveways, swimming pools and other sensitive areas while they're traveling or at work.
Customers with second homes or remote properties will be able to use Alarm.com Video Monitoring to see what's happening while they're away.
Commercial users can make sure their businesses were opened and closed on time, monitor customer traffic throughout the day and visually confirm that everything is business as usual.
"Alarm.com Video Monitoring is a cost effective, user-friendly security offering that seamlessly integrates with Alarm.com's technology platform," explained Donald Natale, Vice President of Sales at Alarm.com. "Its flexibility and ease of implementation make it attractive not only for customers who want to stay informed of everyday activity, but also for installing dealers."
Alarm.com's Video Monitoring solution is now available to Security Networks affiliates and their customers. For more information about Alarm.com Video Monitoring, please visit http://www.alarm.com/video.
About Alarm.com
Alarm.com Incorporated provides wireless and web-enabled security and activity monitoring technology to hundreds of thousands of residential and commercial customers throughout the United States and Canada. Alarm.com products and services are offered exclusively through a network of over 1000 licensed and authorized Security Dealers. The company is headquartered in Tysons Corner, VA, just outside of Washington, DC. For more information, visit http://www.alarm.com.
About Security Networks
Security Networks is a diversified, full service life safety solutions company providing security monitoring and related services to homeowners and businesses coast to coast. The company has also been recognized as one of the fastest growing companies in the industry. For more information, visit http://www.securitynetworks.com.
# # #