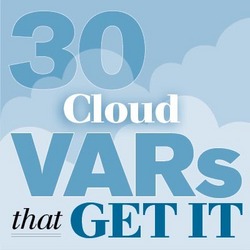 "This is an exciting accomplishment for Cloud Sherpas and more validation that Google Apps is the future of the enterprise" Michael Cohn, VP and Founder of Cloud Sherpas
Atlanta, GA (PRWEB) September 27, 2010
Cloud Sherpas, a leading Google Apps solution provider, today announced that it has been recognized as one of the "30 Cloud VARs That Get It" by Everything Channel's CRN Magazine. Everything Channel's editorial team has been reporting daily on cloud news and searching for the solution providers that are most popular with enterprise organizations. Solution providers were chosen for this award based on the expertise of editors covering the cloud market.
Over the past two years, Cloud Sherpas has firmly established itself as a trusted partner to Google as well as hundreds of midsize and enterprise organizations. In this time Cloud Sherpas has migrated over half a million workers from Microsoft Exchange, Lotus Notes and Novell GroupWise to Google, leading to dramatically reduced IT expenses and unprecedented improvements in messaging and collaboration. Cloud Sherpas is consistently chosen by customers for its Google Apps expertise, strong track record with larger enterprises, and great customer service.
"Cloud services are the future of our industry, and the 30 VARs selected for this award had the foresight to shift their business model in anticipation of this evolution. These forward-thinking VARs represent the future of our industry and can offer best practices on how to effectively incorporate cloud services into a portfolio," said Kelley Damore, VP, Editorial Director, Everything Channel.
"This is an exciting accomplishment for Cloud Sherpas and more validation that Google Apps is the future of the enterprise," said Michael Cohn, founder and vice president of marketing and product management at Cloud Sherpas. "Despite the claims of vendors selling on-premises solutions, experienced IT execs know that moving to the cloud will significantly lower IT costs and improve IT and end-user productivity. It's clear now that cloud computing has momentum and we're grateful to Everything Channel for acknowledging our contribution to this important enterprise IT revolution."
After featuring the top 100 cloud vendors in its January issue, cloud has become one of the most heavily trafficked topics on the CRN site, bringing in more than a half-million page views since then. The top 30 cloud VARs list features the most visionary cloud-focused solution providers and includes best practices to help enterprises successfully leverage the power of the cloud. A special feature on the top 30 cloud VARs will appear in the September issue of CRN Magazine and expanded coverage will be featured online at http://www.crn.com.
Everything Channel
Everything Channel is the premier provider of IT channel-focused events, media, research, consulting, and sales and marketing services. With over 30 years of experience and engagement, Everything Channel has the unmatched channel expertise to execute integrated solutions for technology executives managing partner recruitment, enablement and go-to-market strategy in order to accelerate technology sales. Everything Channel is a UBM company. To learn more about Everything Channel, visit us at http://www.everythingchannel.com.
About United Business Media Limited (http://www.unitedbusinessmedia.com)
UBM (UBM.L) focuses on two principal activities: worldwide information distribution, targeting and monitoring; and, the development and monetization of B2B communities and markets. UBM's businesses inform markets and serve professional commercial communities - from doctors to game developers, from journalists to jewelry traders, from farmers to pharmacists - with integrated events, online, print and business information products. Our 6,500 staff in more than 30 countries are organized into specialist teams that serve these communities, bringing buyers and sellers together, helping them to do business and their markets to work effectively and efficiently.
About Cloud Sherpas
Cloud Sherpas (http://www.cloudsherpas.com) is a cloud computing systems integrator and application developer. As a Google Apps Authorized Reseller and leading Google Enterprise partner, we have migrated hundreds of thousands of users from legacy, on-premise messaging systems to Google Apps and Google App Engine, helping organizations adopt cloud computing to innovate and dramatically reduce their IT expenses. SherpaTools for Google Apps (http://www.sherpatools.com) is a free app from Cloud Sherpas that enhances the functionality and ease-of-use of Google Apps for both administrators and end-users.
###