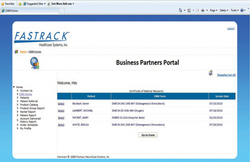 Plainview, NY (Vocus) September 25, 2010
FASTRACK Healthcare Systems, Inc. unveiled new enhancements to their Web Portal that will closely link providers to physicians ultimately creating new business opportunities and increase productivity.
Fastrack's Web Portal allows physicians to enter new referrals and orders on-line eliminating the redundant entry caused by the traditional use of faxes. The physician can access to their patient's data seeing the products supplied and complete CMNs on-line increasing turnaround time and ultimately improving cash flow.
The Portal will improve operational efficiency and productivity. Secure web access is provided for doctors, nurses, respiratory therapists, referral sources, sales reps, patients and wholesale accounts. The Web Portal fully integrates into the Fastrack HME, Infusion Pharmacy and Homecare Agency software automating the entry of data.
Key Benefits

Reduce paperwork and data entry.
Important sales tool to aid in generating new business.
Makes it easier for "partners" to do business with the provider and enhances the image of the business.
Helps integrate external sources with the Provider's business.
Automates the generation of new patients and orders.
Fastrack Web Site Creator
The Web Portal includes the ability for the Provider to create their own Web Site, providing tools to build an unlimited number of pages with a link to the Fastrack StoreFront.
Customizable Home Page with business partner (user) log in ID and password fields.
Add text, photographs and logos.
Provides single point of access for external users.
For further information contact FASTRACK Healthcare Systems, Inc. 255 Executive Drive, Plainview, N.Y. 11803; 1-800-520-2325, fax: 516-349-8875, or e-mail them at: info(at)fastrk.com or visit their Website: http://www.onlyfastrack.com.
# # #