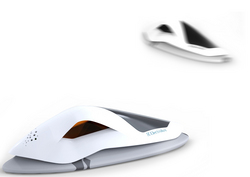 It is a great honor to win one of the best product design competitions running
Bloomington, IL (Vocus) September 25, 2010
Electrolux, a global leader in home and professional appliances, selected The Snail as the Electrolux Design Lab 2010 winner. The announcement was made at the finals in London on September 23, 2010, at 100% Design London, the United Kingdom's leading architecture and design event.
The Snail is a portable heating and cooking device based on magnetic induction processes. The Snail is small and versatile enough that it can be stuck directly on to a pot, pan, mug, etc. to heat its contents. This reduces the amount of space required for conventional cooking while adding portability to the process. Powered by a high-density sugar crystal battery, The Snail converts the energy from the sugar, heating up a coil to conduct the magnetic induction process to the utensil. Integrated sensors detect the food type being heated in order to automatically adjust the time and temperature. A simple touch-sensitive display with interface helps to monitor the cooking process.
Jury Motivation
The Snail is a well-researched concept that goes even beyond the brief. In addition to being a solution for city dwellers, it offers a wider social potential for use in remote areas, just as the first cell phone opened opportunities.
The organic design is polarizing and shows potential for differentiation and personalization, as there would be many options for use of different colors and shapes.
"It is a great honor to win one of the best product design competitions running," said Alwin. "However, this is about more than just the award. The Electrolux Design Lab competition has given me a great learning experience. Meeting my fellow finalists and seeing the different approaches to design from around the world is very rewarding, and so is receiving some great feedback from the jury. This is my first time traveling outside of India and something I'll never forget. I'm now looking forward to starting my six month placement with Electrolux."
The Jury
The jury included Ineke Hans, founder of design office INEKEHANS/ARNHEM; Benjamin Hubert, Design of the year, British Design Awards 2010; Jon Marshall, Studio Director at BarberOsgerby; and Henrik Otto, Senior Vice President of Global Design at Electrolux.
The Award
The Electrolux Design Lab 2010 award is a prize of approximately $6,000 and a six-month paid internship at one of Electrolux's Global Design Centers. The award for second place went to The Bio Robot Refrigerator, the Cool, Green, Food Preservation by Yuriy Dmitriev, CSU, Russia. Third place went to The Elements Modular Kitchen, All-In-One Kitchen Shelving, by Matthew Gilbride, North Carolina State University, U.S. The Bio Robot Refrigerator also received the People's Choice Award, as voted for online.
The Competition Theme
For Electrolux Design Lab's eighth edition, undergraduate and graduate industrial design students were invited to create home appliances that consider how people prepare and store food, wash clothes and do dishes in shrinking domestic spaces. Growing populations living in an urban environment dictate a need for greater space efficiency. The design ideas should address key consumer requirements; being green, being adaptive to time and space and allowing for individualization.
This year, over 1,300 entries were submitted from students in more than 50 countries.
The Top Eight Finalists
FIRST PLACE: The Snail, Micro Induction Heating by Peter Alwin, National Institute of Design, India
SECOND PLACE: Bio Robot Refrigerator, Cool, Green, Food Preservation by Yuriy Dmitriev, CSU, Russia
THIRD PLACE: Elements Modular Kitchen, All-In-One Kitchen Shelving by Mathew Gilbride, North Carolina State University, USA
PEOPLE'S CHOICE: Bio Robot Refrigerator, Cool, Green, Food Preservation by Yuriy Dmitriev, CSU, Russia
The Kitchen Hideaway, by Daniel Dobrogorsky, Monash University, Australia
Clean Closet, All-in-One Laundry Concept by Michael Edenius, Umeå Institute of Design, Sweden
Dismount Washer, Wash & Go Laundry by Lichen Guo, Zhejiang University of Technology, China
External Refrigerator, External Cooling by Nicolas Hubert, L'Ecole de Design Nantes Atlantique, France
Eco Cleaner, the Portable, Compact Dishwasher by Ahi Andy Mohsen, Elm o Sanat University, Iran
About Electrolux Design Lab
Established in 2003, Electrolux Design Lab is an annual, global design competition open to undergraduate and graduate industrial design students who are invited to present innovative ideas for household appliances of the future.
The competition has had different themes and culminates in a new city every year at an international press event. Previous themes and venues include: 90 years ahead, London, 2009; Designs for the Internet generation, Zurich, 2008; Green designs, Paris, 2007; Designs for healthy eating, Barcelona, 2006; Designs of the future, Stockholm, 2005; Designs of the future, New York, 2004; User-driven solutions, Budapest, 2003.
For more information, press materials, and on-demand videos visit http://www.electrolux.com/designlab.
Electrolux is a global leader in household appliances and appliances for professional use, selling more than 40 million products to customers in more than 150 markets every year. The company focuses on innovations that are thoughtfully designed, based on extensive consumer insight, to meet the real needs of consumers and professionals. Electrolux products include refrigerators, dishwashers, washing machines, vacuum cleaners and cookers sold under esteemed brands such as Electrolux, AEG-Electrolux, Eureka and Frigidaire. In 2009, Electrolux had sales of approximately 14 billion USD and 51,000 employees. For more information go to http://www.electrolux.com/press and http://www.electrolux.com/news.
###