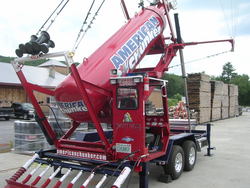 Team American Chunker is poised to take Delaware by storm this fall, our sights are set on nothing less than absolute victory - Team Captain Brian Labrie claims with confidence.
Boston, MA (PRWEB) September 29, 2010
A true American exclusive; coming this Fall - American Chunker Inc.
Most folks know that the New Hampshire state fruit is the pumpkin. What may not be known, is that now the state will have it's first and only pumpkin cannon, commonly know as a "Punkin Chunker". An innovative group of southern NH folks have designed and built a pumpkin launching device intended to shoot pumpkins over 1 mile at the 2010 annual Delaware contest know as "Punkin Chunkin".
This talented crew knows pumpkins and they know how to make them sail. The huge air cannon has a barrel that is well over one hundred feet long and has an air tank (ASME pressure vessel) that hold hundreds of gallons of compressed air. The group has plans on traveling up and down the eastern seaboard (mostly throughout New England and the Northeast) this fall showing off a brand new state of the art air cannon. The new machine has multiple features never seen on any competition air cannon claims Brian Labrie the Team's Captain, Labrie says "This cannon is built for speed and comfort - it's definately the Cadillac of all pumpkin cannons".
Labrie, a long time New Hampshire business owner and air cannon enthusiast also stated Friday in an exclusive private interview that "Team American Chunker will travel this fall and cautiously play around at some local events but when the team gets to Delaware it's ShowTime...Team American Chunker is there for two reasons and that is to break the mile mark at the only WCPCA sanctioned event and bring home the 8 ft tall traveling trophy". The Nov 5th unveiling is just around the corner.
Also interesting, when the team applied for entry in the annual Delaware contest they were asked to select a charity, so that, in the event their team wins the at "chunk" a large donation would be made to that chosen charity. Team American Chunker Inc. selected without hesitation "The New England Basset Hound Rescue Group". "This organization is compiled of an absolutely amazing group of people dedicated to helping Basset Hounds in need" Labrie said. "Team American Chunker hopes to be able to bring home victory to New England and a good chunk of "change" for our floppy eared friends". Labrie further stated, Like the introduction of a new cell phone, this New England based brand new Chunker team seems to be all the rage this Fall.
Team American Chunker has acquired the Smuttynose Brewery Company as their main sponsor & are cautiously optimistic about victory this fall! The teams website, actually a frequently visited blog site - http://www.americanchunker.com is where hundreds interesting photos and articles can be found. Also noteworthy Team American Chunker might just be also be in your living room this Thanksgiving night at 8 pm courtesy of cable television – so stay tuned.
###