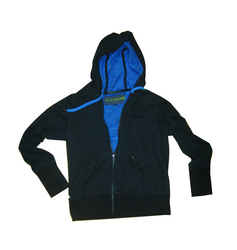 PLAYBACK Clothing is developing the future of Eco-Friendly apparel by walking away from the uncomfortable, expensive, cardboard-look of past 'green' clothing and replacing it with a hip new twist of quality, style and color.
New York, NY (PRWEB) September 28, 2010
An Eco-Friendly apparel company that produces t-shirts and sweatshirts from recycled materials is transforming the world of sustainable apparel with their own patent-pending process. PLAYBACK Clothing and Adam Siskind are on a mission to dissolve the uncomfortable, expensive, cardboard-look of organic clothing and past sustainable apparel, and replace it with a hip new twist of quality, style and color. In creating their own fabrics by recycling cotton scraps and plastic bottles, PLAYBACK Clothing is revolutionizing the look, feel and standards of 'green' apparel forever.
Adam Siskind of PLAYBACK Clothing, founded the company after being inspired by Al Gore's documentary "An Inconvenient Truth." His brand openly examines its entire manufacturing process, rather than just slapping an 'organic clothing' label on the products. Siskind had two students from Yale University's graduate program in Environmental Studies conduct an independent Life Cycle Analysis (LCA) Life Cycle Analysis ]on PLAYBACK apparel, which concluded that, when compared with a conventionally made sweatshirt, PLAYBACK products were more sustainable in 23 out of 25 environmental categories.
"No one else on the market is creating sustainable apparel that is completely open and honest about its practices," Siskind said. "We're giving the consumer a high quality garment that looks, feels, and lasts longer than traditional basics. Adam Siskind's vision for PLAYBACK Clothing is to become every person's favorite T-shirt and hoodie brand and with the steps we've taken thus far I think we're on our way."
PLAYBACK achieved such profound results with the LCA by using the preexisting color of the original recycled materials to color the yarn, which eliminates the use of chemical dyes, one of the most harmful aspects of clothing production. PLAYBACK is also reducing landfill waste and doing away with the need for extra cotton growth, which means massive amounts of land and water are saved. Brands like American Apparel and Hanes have been making clothing basics for years, but PLAYBACK's process introduces a never-before-seen twist to eco-friendly men and women's closet staples.
What is most astonishing about PLAYBACK's process is that it creates products that look better because they are made from recycled materials. "Beer Bottle Brown," "Soda Bottle Green" and "Water Cooler Blue" T-shirts have a mysterious opaque glow, evidence of their past life as plastic bottles. PLAYBACK sweatshirts and recycled cotton T-shirts are knit from recycled yarn into unique heathers and mélanges making for a new style statement to both the 'eco' and traditional apparel scene.
No other fashion brand is making a statement like PLAYBACK right now, and everyday citizens and celebrities alike are recognizing it. Stars like Adrian Granier, Chase Crawford, Penn Badgley and the cast of Gossip Girl are fans of PLAYBACK apparel. Some of the biggest names in music are also jumping on board. Bon Jovi, U2, Wilco, Dave Matthews Band, and Phish have signed up to use PLAYBACK blanks for their merchandise made from recycled materials.
Adam Siskind is leading the 'green' clothing industry to places it has never been before. The exclusive look of the products mixed with the brand's goal to keep the environment intact is the wave of the future; the future is now.
# # #