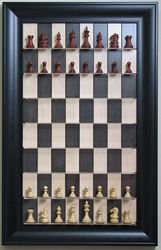 I designed the Straight Up Chess board to be a casual game that takes very little time out of your day, and allows you to play with a fellow chess player over the course of several hours, days, or even weeks
Denver, CO (PRWEB) September 27, 2010 –
Looking for the perfect holiday gift this year? According to a national study put out by VoiceQuilt, U.S. women overwhelmingly are looking to spend less and make each gift more meaningful this holiday season, with over 72 percent of respondents saving they want to give unique, one of a kind gifts to family and friends.
Every year, one of the top ten gift giving ideas for men includes a chessboard. In some ways they have become a status symbol in a game room or family room, and are functional as well as beautiful.
"While many homes have a chess set, and families love playing chess throughout the year, the problem always comes down to time. Do you have time to complete a full game of chess before you put the board away?" states Steve Schrier, founder of Straight Up Chess.
Straight Up Chess has created a patented chessboard that moves the game of chess to the wall. Instead of the keeping the chess game on the table and in the way, it is now transformed into a functional piece of art on your wall that allows continual play over days or even weeks at a time. It's a classy decoration for any office, game room, family room or hallway.
"I designed the Straight Up Chess board to be a casual game that takes very little time out of your day, and allows you to play with a fellow chess player over the course of several hours, days, or even weeks," stated Schrier. "The board hangs on the wall, keeping your tables and living/working area clear. As you pass by, make your move, mark it with the "last move" marker and continue on your way. Your opponent does the same at his/her convenience, and the game continues."
Straight Up Chess boards are hand made and offer several options to fit any decor. Chessboards are created in two standard sizes to fit either 2 ½ inch or 3 inch chess pieces but can be custom made for larger sets. Each chessboard is made from a choice of six separate chessboard backgrounds, ten standard framing options, several custom framing options including Aspen logs, barn board, and forest material, and a variety of chess playing pieces, ensuring each choice is as unique as the person receiving it.
For more information on Straight Up Chess, and to view or purchase individual chess boards, visit http://www.straightupchess.com/
Contact:
Steve Schrier
TRF Games, Inc.
DBA: Straight Up Chess
1901 W Iliff Ave.
Englewood, CO 80110
720-837-0114
steve(at)straightupchess(dot)com
###