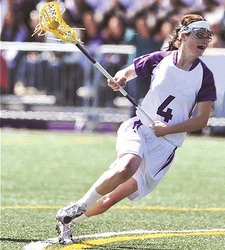 Denver, CO (Vocus) September 27, 2010
Harrow adds three time division 1 lacrosse champion Katrina Dowd to their roster of Sports Managers.
Harrow Sports is proud to announce Katrina Dowd, the latest addition to their Sport Management team. The Three - time D1 National Champion will be heading up the Women's Lacrosse division. Katrina brings years of experience on the field, and a decorated sports career to Harrow – qualities that will ensure that Harrow sports continues to bring innovative, progressive and versatile products to the lacrosse field.
The consultants at Harrow are truly spectacular athletes. Hand-picked from D1 colleges and professional circuits, these players are truly suited to test, refine and develop some of the most advanced sports equipment on the market. Harrow continues this tradition by welcoming Katrina to their ranks, an outstanding player with a formidable record.
Some of Katrina's career highlights are listed below, with a full bio available at http://www.harrowsports.com/news.asp?id=236

Three Time Division 1 National Champion
2010 IWLCA Attacker of the Year
Tewaaraton Award and Honda Lacrosse Award finalist (2010)
2009 NCAA tournament MVP
Two-time IWLCA first team All-American (2009, 2010)
Named Northwestern's Female Athlete of the Year and a Big Ten Suzy Favor Award nominee (2010)
Three-time NCAA all-tournament team selection.
NCAA tournament career leader in goals (45) Set record in 2009 for most goals(22) in an NCAA tournament
American Lacrosse Conference Player of the Year and Tournament MVP
Featured on ESPN SportsCenter Top-10 highlight reel for her NCAA semi final game behind the back goal.
Katrina brings this dedication and relentlessness to Harrow. At the forefront of her game, her drive and passion will ensure Harrow will continue to develop some of the best lacrosse equipment in the world.
The full range of women's lacrosse equipment is available at http://www.harrowsports.com/wlacrosse.asp.
About Harrow Sports:
Harrow Sports is a recognized leader in high performance composite technology for sports equipment. Since its inception, Harrow has led the industry in game changing composites in squash, lacrosse, ice hockey and field hockey. For more information please visit http://www.harrowsports.com.
For further information contact:
Harrow Sports
Tel: 800-541-2905
# # #