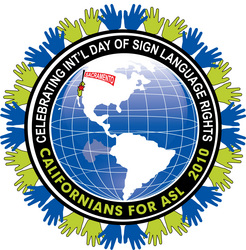 "Nothing about Us without Us!"
Sacramento, CA (PRWEB) September 26, 2010
On September 30, 2010 a historical statewide celebration of International Day of Sign language will take place on the north side of the State Capitol. This celebration at the capitol is joined by the rest of the country and the world in recognizing and celebrating Signed Language.
The event kicks off with the Star Spangled Banner performed by Carole Garcia, from "The Groove Thang", interpreted in sign language. The day includes a variety of Speakers, Artwork and Sculptures by deaf individuals,booths and telecommunication exhibits, elementary, middle and high school Deaf students from California State School for the Deaf, Fremont performing skits, Poetry, face painting, and a Deaf Magician performing tricks.
"Nothing about us without us!" This theme follows the human right to sign language that is incorporated in the United Nations Convention on the Human Rights of Persons with Disabilities recently signed by President Obama. The treaty requires sovereignties to promote, respect, and protect the full and equal enjoyment of all human rights and fundamental freedoms by all persons with disabilities. In the spirit of this treaty, it is vital that persons who are deaf or hard of hearing and use American Sign Language be included in all major decision-making, especially legislation, that affect their community.
Joining the celebration will include fantastic presentations by representatives from state legislators offices of: Senator Wiggins, Senator Leno, Assemblymember Huffman, Assemblymember Chesbro, and Office of the Governor. Dynamic Deaf Community Leaders presentations includes Dr. Roz Rosen, representing World Federation of the Deaf, Wayne Sinclair, International Congress on Education of the Deaf, Julie Rems-Smario, National Association of the Deaf, and Ralph Singleton, President, California Association of the Deaf.
Hosting this event is the California Association of the Deaf. Ralph Singleton, President remarks, "We have a long way to go as we work together to lift the oppression that our community has had to deal with over the past 130 years. We are committed to working with on future legislation recognizing the human right to and value of American Sign Language as a natural language in early identification and intervention programs". (http://www.cad1906.org/)
This event is from 10 AM to 3 PM – North side, State Capitol.
Sponsored by Purple Communications, Inc. and AT&T Relay.
###