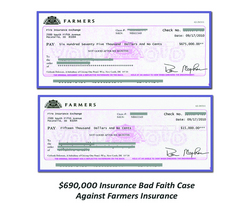 I think Farmers knew all along they had committed bad faith. They apparently did not like the claimant and put him through the ringer on 3 separate claims.
Irvine, CA (PRWEB) September 27, 2010
Irvine Trial Lawyer Gregory G. Brown and Partner Joseph A. Ferrucci obtained a $690,000 settlement for their client on an Insurance Bad Faith Case against Farmers Insurance (Los Angeles Superior Court - Long Beach Branch Case No. NC 051787). Their client was a Farmers insured and had submitted three separate first party insurance claims on two separate pieces of property located in Long Beach and Hemet. Plaintiff alleged that during the claims process, Farmers delayed investigation on each of the three claims. Trial witnesses testified that Farmers unreasonably processed each claim through the "Special Investigations Units", subjected their insured to unnecessary and repetitive investigations. Further, Farmers failed to promptly investigate the claims and failed to pay the amounts due on the contract portions of the claims. Mr. Brown and Mr. Ferrucci contended that Farmer's conduct was unreasonable and constituted Insurance Bad Faith. They also alleged that Farmers acted unreasonably during the litigation process, which was confirmed in trial according to Plaintiff's bad faith expert witness!
The case went to trial in Long Beach, CA in August of 2010, and the Plaintiff's case was almost complete. Due to a recent filing of a class action lawsuit against Farmers for their handling of claims in the Station Fires, some jurors saw the news on television and heard it on the radio. The press was quite negative to Farmers and a few of the jurors could not ignore this negative information. The jurors were released, which left fewer than 12 jurors. As a result, the Long Beach Trial Judge had to order a mistrial. A bad faith expert witness had testified already and had concluded that Farmer's conduct was below the standard of care, was unreasonable and in some areas, and constituted malice, oppression and fraud against their insured.
Following trial, Farmers increased their $175,000 pre-trial offer to $690,000. The plaintiff had demanded $775,000 before trial began.
Mr. Brown and Mr. Ferrucci are partners in the Irvine Trial Law Firm of Brown & Charbonneau, LLP and specialize in complex business and trial matters. Gregory G. Brown is a Certified Trial Specialist and has been selected for inclusion by Super Lawyers for the last three years in a row (representing the top 5% of California Attorneys). Brown & Charbonneau, LLP is well known for being hard hitting, aggressive litigators and trial specialists. They practice business litigation, commercial litigation, real estate litigation, family law and personal injury litigation throughout Southern California.
For more information, visit http://www.bc-llp.com
###