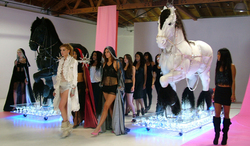 Los Angeles, CA (PRWEB) September 27, 2010
On Saturday, December 4, 2010. From 7pm-12am: In Females We Trust is hosting the largest models registration. In Females We Trust is giving homage to women all around the world, while selecting 100 top females from the 500 that will be presented during this registration.
In Females We Trust will be introducing for the first time to the world, the amazingly elegant, and enchanting, Bijou Champagne Horses (Budweiser Clydesdales). These majestic horses were designed exclusively for the celebration of females royalty. These horses, have been a symbol of power and entertainment that did entertain people in the advertising industry and are still entertaining people today.
Global Influence: In Females We Trust is a creative organization, inspired by and dedicated to the celebration of women entrepreneurs who have lead the way for the up and coming next generations.
This event will stimulate activity and growth in the fashion and beauty industry, creating jobs, while putting forth a new concept and a new approach to business ideas in the area of fashion presentation.
Don't miss the event, mark your calendars for Saturday, December 4, 2010. From 7pm-12am.
Venue: SMASHBOX STUDIOS. 1011 North Fuller Avenue West Hollywood, CA 90046
For more info visit http://www.infemaleswetrust.com or call 310-943-6433
# # #