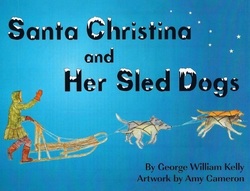 The last big change—Santa Claus landing on rooftops with his eight flying reindeer—was introduced in 1823
New York, NY (PRWEB) September 30, 2010
Santa Christina, the wife of Santa Claus, will deliver half the Christmas toys by dog sled this year, says a newly published children's picture book. Her husband will deliver the other half as usual with his sleigh and reindeer, the book adds.
Santa Christina's active participation in delivery of Christmas toys was asserted here today by octogenarian author George William Kelly in his newly published children's picture book,"Santa Christina and Her Sled Dogs." It is illustrated by Amy Cameron and published by McRoy & Blackburn, Publishers, of Ester, Alaska. The 32-page hardcover book, for ages 0-8 years, retails at $14.95. It has a website at http://www.santachristina.wordpress.com .
"This is the first major change in American Christmas tradition in 187 years," said Kelly. "The last big change--Santa Claus landing on rooftops with his eight flying reindeer—was introduced in 1823 with the poem, "A Visit from St. Nicholas," by Clement Clark Moore. Before that Claus was imagined as 'St. Nicholas' with a bishop's robe, a staff, and a miter but no reindeer. St. Nicholas still visits some countries by foot in that older style."
"Until now, Santa Claus's wife has been known to most people only as Mrs. Claus," Kelly added. "Tradition shows her wearing an apron, baking cookies, knitting sweaters, and rocking by the fireplace. All attention has been concentrated on her famous husband. Girls and boys did not even know her name."
The new book tells us her name is Santa Christina. It describes her as folllows: She is an up-to-date, modern woman. She loves to mush with her team of seven sled dogs beneath the Northern Lights. She asked the North Pole elves to find seven dogs in seven northern countries: the U.S., Canada, Greenland, Iceland, Norway, Finland, and Russia. She named the dogs Ginger, Marzipan, Strudel, Stollen, Cocoa, Nutmeg, and Haark. Haark is the lead dog of the team.
In the book, she and her dogs travel to Alaska to watch the famous Iditarod Trail sled dog race. They also accompany Santa Claus to Macy's Thanksgiving Day Parade in New York City. While there, they mush through Central Park and chance upon the famous bronze statue of Balto the Sled Dog.
Back at the North Pole, the book continues, a race between the two Santas (around the Arctic Circle) shows that sled dogs can run as fast as reindeer. After the race Santa Claus invites Santa Christina to help him deliver the toys forever after. Santa Christina happily accepts her new job, but she chooses to wear holly-leaf-green instead of the holly-berry-red that her husband favors.
Artist Amy Cameron of Ester, Alaska, uses her own sled dogs as models for Santa Christina's dogs. Cameron shows Santa Christina's fashion-independence by clothing her in the Alaska Inuit-style tunic-dress known as the kuspuk. Cameron contrasts Christina's holly-leaf-green kuspuk next to Claus's holly-berry-red outfit. Cameron never shows the faces of Santa Claus and Santa Christina. She leaves their faces to the imagination of young readers.
The publisher, McRoy & Blackburn, specializes in Alaska fiction and Alaska-related authors. The theme of mushing, which is the official state sport of Alaska, together with Kelly's World War II military service in Alaska, aided in the choice of the manuscript.
If news about Santa Christina spreads quickly, Kelly said, there may be a shortage of Santa Christina books due to a small initial printing. He suggested that parents and grandparents order books soon. He said he is seeking a licensing agent to handle products, toys, and other items related to the characters of Santa Christina and her sled dogs.
Contact: George William Kelly (Author), 212-831-8431. Cellphone 917-414-0677.
About George William Kelly: Born August 21, 1927, in Evergreen, Alabama. -- Wife: Jain Wright Kelly. Daughter: Georgette Valentine Kelly. --Son of Alabama State Senator J. Lamar Kelly and Laurie Brantley Kelly. -- World War II airman based at Elmendorf Air Force Base, Anchorage, Alaska. -- MS in Journalism from Medill School of Journalism at Northwestern University. -- Attended University of Alabama and University of Pennsylvania. -- Worked as journalist for the Champaign-Urbana, IL, Courier; the Camden, NJ, Courier-Post; the Associated Press Philadelphia Bureau, and several trade publications. -- Resident of New York City since 1960. – Member of St. James's Church (Episcopal) in Manhattan. -- Former Public Relations Director of The Brooklyn Children's Museum. -- Founded two Manhattan stores: Go Fly a Kite Store, Inc. and Cookbooks Only. -- Amateur theorist in particle physics (http://www.bivortex.blogspot.com). -- Author of two previous books: "What Does the Tooth Fairy Do with All Those Teeth?" (C. R. Gibson Company) and "Georgette's Bivortex Theory of the Universe" (XLibris).
# # #