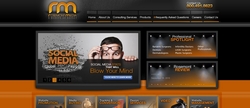 Each step of the website design process is performed in-house. No outsourcing, no templates, period.
San Diego, CA (Vocus) September 27, 2010
As a search engine and online marketing veteran of 13 years, Rosemont Media™ CEO Keith Humes will join the American Society of Plastic Surgery, in cooperation with the Canadian Society of Aesthetic Cosmetic Plastic Surgeons (CSACPS), in Toronto, Ontario, Canada for the annual Plastic Surgery meeting from October 1-5, 2010. Plastic Surgery 2010 is the world's largest international meeting of plastic surgeons and health care professionals, with registration expected to exceed 5,000 attendees.
As a leader in medical website design, Humes will be joined by moderator W. Grant Stevens, M. D., a Los Angeles plastic surgeon, and Ryan Miller, CEO of Etna Interactive. Scheduled for Monday, October 4th, 2010 at 3:30 pm local time, the course entitled 'Internet Marketing: Getting the Most out of Your Website' will cover a range of topics Humes and his fellow panelists have designated as essential components to successful internet marketing. The lecture will cover topics that range from assessing a practice's website needs, to establishing priorities and developing a plan, to integrating strategies to stimulate online marketing campaigns. In addition to discussing how the aesthetic practice can attract new patients from the internet by implementing over-arching marketing strategies, Humes will focus specifically on the role social media sites play in successful online reputation management and increasing investment return.
As Humes prepares for Plastic Surgery 2010 in Toronto, he stresses the need for personalized content management, and says Rosemont Media™ specializes in plastic surgery marketing, supplemented with 100% custom website designs and unique, fully-optimized content. "Each step of the website design process is performed in-house. No outsourcing, no templates, period."
About Rosemont Media™
Rosemont Media™ is a boutique advertising agency focusing on creating lasting relationships and a strong reputation within the elective healthcare industry. Located in San Diego, CA, the medical website design firm works with board-certified surgeons from across the United States, operating under strict terms of exclusivity to allow for proactive and impartial consultation and analysis.
Rosemont Media™ is located at 1010 Turquoise St. Suite 201, in San Diego, CA 92109, and can be reached at (800) 491-8623, or http://www.rosemontmedia.com/
# # #