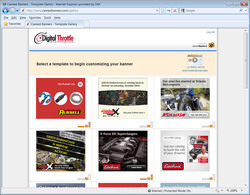 Advertisers of all sizes will discover this solution saves an incredible amount of time and ultimately produces a more robust portfolio of ads.
San Francisco, CA (PRWEB) September 29, 2010
Vertical online ad network Digital Throttle launched a new service today that will allow advertisers to easily build display ads at no extra charge using the Canned Banners self-service platform.
Digital Throttle, a vertical ad network built on the Adify platform, gives advertisers the ability to reach a targeted audience of over 6 million motoring enthusiasts, motorsports racers, and motorcycle riders. With on-demand ad creation using Canned Banners, advertisers will now be able to launch new campaigns rapidly, avoiding the costly and time-consuming process of developing banner ads.
Bryan Robb, President and Founder of Digital Throttle, said: "The Canned Banners solution is a great compliment to our network. Our network simplifies the online advertising process for the automotive and motorcycle aftermarkets. Advertisers of all sizes will discover this solution saves an incredible amount of time and ultimately produces a more robust portfolio of ads."
Digital Throttle clients will access a private-label version of the Canned Banners platform featuring customized Digital Throttle ad templates. Clients will be able to use Canned Banners at no extra charge.
Myles Younger, Co-founder and Head of Marketing at Canned Banners, said: "We want to give Digital Throttle clients a hassle-free experience. Using the Canned Banners platform, they can choose one of our ready-to-go templates, add their own text and images, and in just a few minutes produce a high-quality Flash banner ad that's completely unique and customized to their business."
Automotive and motorsports advertisers should visit http://www.digitalthrottle.com or contact bryan.robb(at)digitalthrottle(dot)com to find out how the Digital Throttle ad network can help them reach a highly targeted audience of automotive, racing and motorcycle enthusiasts.
Ad networks and publishers should visit http://www.cannedbanners.com or contact myles.younger(at)cannedbanners(dot)com to learn how Canned Banners can help automate the ad creation process for advertisers.
About Digital Throttle:
Digital Throttle (http://www.digitalthrottle.com) is a vertical ad network, providing online advertising across an independent network of niche automotive and motorcycle sites. The network selectively partners with sites targeting consumers seeking to repair, customize, restore or race their vehicles.
About Canned Banners:
Canned Banners (http://www.cannedbanners.com) allows small businesses and marketing professionals to quickly create their own professional-looking Flash banner ads. Users select from a variety of templates and then add their own text, images, and logo. Canned Banners offers small businesses access to sophisticated Flash banner design at a low price, and offers larger companies a cheaper and more nimble alternative to the agency process.
About Adify:
Adify Corporation (http://www.adify.com) is the premiere vertical ad network management and media services company and is an independent, wholly owned subsidiary of Cox TMI Inc., part of Atlanta-based Cox Enterprises.
###