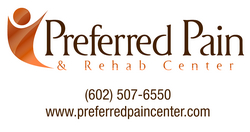 Education is vital in patient understanding of pain procedures - it improves outcomes definitely
Phoenix, AZ (Vocus) September 28, 2010
Preferred Pain Center, the premier Comprehensive Pain Management Center in Phoenix & Scottsdale, AZ, recently unveiled its brand new website. Due to an exponential increase in website traffic and patient requests for additional pain management education, this Phoenix AZ Pain Center felt the need to oblige its followers.
The new website comes at an exciting time in the growth of Preferred Pain Center, which serves Phoenix and Scottsdale AZ along with surrounding areas such as Mesa, Tempe, Chandler, Gilbert, Laveen, Glendale, Peoria, Avondale, Surprise, and Sun City.
The site is extremely content driven with a new look and feel along with exceptionally easy navigation. New features consist of patient testimonials, educational videos, narrated pain management procedure animations, and the integrated Blog of Pain.
Said CEO of the Center David Greene, MD, Phoenix, AZ "The website achieves the trifecta of being visually appealing, educational content driven, and search engine optimized to make sure the information gets to those who need help the most, which is those suffering from painful conditions. Whether it's someone who needs an epidural injection for a herniated disc, a facet block for facet syndrome, spinal decompression information, or the latest research on chiropractic our site has all of that education and so much more."
One of the primary additions is the interactive patient education center. The Phoenix and Scottsdale pain center website includes narrated animations on over 50 common pain procedures and pain diagnoses. These are procedures such as facet blocks, epidural injections, radiofrequency ablation, spinal cord stimulators, and discograms. For patients in pain, one of the most helpful cornerstones of treatment is knowledge regarding one's diagnosis and treatment. The pain education center provides that knowledge in a format that is easy to understand and available 24 hours a day.
The interventional pain management procedures discussed on the website are performed by Preferred Pain Center's affiliated Board Certified Scottsdale and Phoenix Pain Doctors including Ajay Narwani, MD, and Jerry Sobel, MD. "Education is vital in patient understanding of pain procedures - it improves outcomes definitely," says Dr. Narwani.
The Blog of Pain has been fully integrated into the new website, maintaining the look, feel, and intensive content regarding anything and everything pain related. The Blog is maintained by CEO David Greene, MD, Phoenix, AZ, who was recently elevated to Platinum Author Status on Ezines.com, which is an exclusive honor on the web's most authoritative source for online articles. Dr. Greene is ranked in the top 5% for all authors on back pain and pain management articles, all of which are shared on The Blog of Pain. Comments are encouraged, and the site also includes the ability to sign up for Preferred Pain's Newsletters and educational email program.
Patient testimonials, both text and video, are scattered through the new website as well. These videos were professionally edited and filmed with real patients obtaining real results by Caring for Arizona, who selected Preferred Pain Center as leaders in Phoenix and Scottsdale Pain Management, PT/Rehab, and Chiropractic Treatment. Phoenix Chiropractor Sky Moore was selected as a Contributing Medical Editor based on his 15 successful years of practicing as a Phoenix and Scottsdale Chiropractor.
A key addition is the Spinal Decompression video providing a complete overview of lumbar decompression and cervical decompression along with interviews with multiple patients who benefited from treatment while suffering from failed back surgery, lumbar disc herniation, and degenerative disc disease.
Preferred Pain Center is the most Comprehensive Pain Management Center in Phoenix and Scottsdale AZ. The pain center includes spinal decompression, chiropractic treatment, PT, Rehab, interventional pain management, and manipulation under anesthesia. Patients are routinely seen within 24 hours. For further information call (602) 507-6550.
###